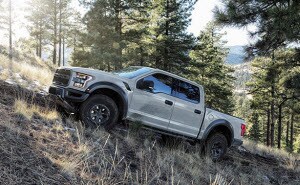 Truck drivers across the Stroudsburg, East Stroudsburg, Easton, Nazareth and Lehigh Valley areas are aware of the awesome capabilities of the Ford F-150. If you're in the market for a new pickup truck to handle your workload, this may be the truck for you. You've probably browsed a few different models, but the Ford F-150 is the first name in this automotive category. So, how do you know it's the right truck for you?
We'll help you figure that out by giving you a closer look at this pickup truck to show what you can expect. In this article, we'll look at power and performance, pickup abilities and capacities, and entertainment features. By reading our review, you'll be able to decide if this vehicle seems like a good fit for you and your job duties.
2017 Ford F-150 Power and Performance
The 2017 Ford F-150 comes standard with the 3.5L Ti-VCT V6 engine. This engine is paired with the Electronic 6-speed Transmission with Tow/Haul mode and Sport mode. This versatile transmission gives you superior control and allows you to alter the driving style to compensate for your load. This engine can reach an effective 282 horsepower with 253 lb-ft of torque. You can easily upgrade to the 3.5L EcoBoost V6 engine, which generates 375 horsepower, or the 5.0L V8 engine, which pushes the vehicle to 385 horsepower. 
The Ford F-150 is tough. See how tough this truck really is in this Ford F-150 vs Toyota Tundra comparison. 
Pickup Abilities and Capacities
When picking out your next pickup, you'll want to be sure it can do what you need when it comes to hauling and carrying a hefty load. The 2017 Ford F-150 offers three distinctive cab sizes: 5.5 feet, 6.5 feet, and 8 feet. When equipped with the 3.5L Ti-VCT V6 engine, the Ford F-150 can carry a payload of 1,900 pounds and tow 7,600 pounds.
When you upgrade your engine power, you'll see a big increase in the vehicle's abilities. The 5.0L V8 engine takes the lead in payload by carrying up to 3,240 pounds of cargo. However, the 3.5L EcoBoost V6 engine steals the show with its impressive and uncanny ability to tow 12,200 pounds. Depending on what your workload looks like, you may want to upgrade the engine to get the job done right. 
Entertainment Features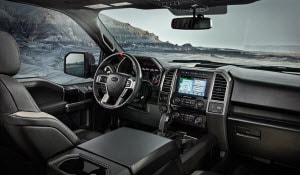 The base level Ford F-150 comes with a radio, but if you choose to upgrade, you'll get a variety of exciting features. The Ford SYNC system adds a little convenience to your driving by offering Bluetooth® technology. You can communicate with coworkers or check in with home by the press of a button. The SYNC 3 offers a larger screen where you can include a navigation system to help find your way. Work doesn't have to feel like work when you're sitting in the 2017 Ford F-150.
Learn more about the impressive Ford technology featured in the F-150! 
Schedule Your Test Drive
In this article, we showed drivers like you from the Stroudsburg, East Stroudsburg, Easton, Nazareth and Lehigh Valley areas the incredible abilities and features of the 2017 Ford F-150. Of course, you can always get behind the wheel to see if this vehicle has what it takes.
Schedule your test drive with us at Ray Price Stroud Ford today.