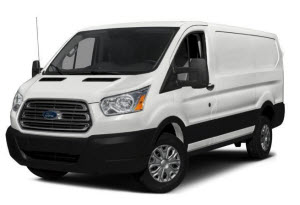 There was a time when you drove a full-sized van for work and hauling and that was about it. They used to be bare-bones vehicles designed for sheer utility. That's changing, with newer entries into the sector being more sophisticated than ever. Ford is well known among automakers for delivering vehicles that are tough performers and reliable, and they've made their mark on the utility van sector for years. 
The new Ford Transit-250 is a prime example of the advanced style of full-sized van that's a hallmark of the manufacturer and can be seen all over the Stroudsburg, East Stroudsburg, Easton, Nazareth and Lehigh Valley, PA, roads. Read our complete and thorough 2017 Ford Transit-250 review and breakdown of all the new features, including performance, safety, and technology. 
2017 Ford Transit-250
The 2017 Ford Transit-250 is a sophisticated full-sized van that offers many configuration options, a choice between several different engines, and expert steering, as well as all the features you want. New this year is standard LED cargo lighting, a default 3.7L V6 engine, a short-wheelbase variant, and new options like upgraded heated front seats and running boards that can be power retracted. 
Configuration and Options
There's only a single trim level for the 2017 Ford Transit, but the options to configure the van are astounding. It comes in models with short- and long-wheelbases, as well as roof and body stiles at low, medium, and high levels. The 2017 ford Transit-250 is the mid-range van in this model, with the 250 indicating its gross vehicle weight rating. 
Standard equipment includes a rearview camera, sliding or hinged side door, power accessories, remote entry, basic stereo audio with auxiliary port, LED cargo lighting, and tie-down hooks. You can add upgraded features like long-arm side mirrors, sliding cargo doors, cruise control, power-retract running boards, parking sensors, automatic wipers and headlights, remote start, Lane Departure Warning, Ford Sync® infotainment and telematics system, and more. 
Performance and Safety
The base V6 engine for the Transit gives you 275 horsepower and 260 lb-ft of torque coupled with a 6-speed automatic transmission and rear-wheel drive. You have the option to upgrade to a 3.2L 5-cylinder or a turbocharged V6, delivering 185 horsepower/350 lb-ft of torque or 310 horsepower/400 lb-ft of torque, respectively. There's also an option for CNG/propane fuel conversion. 
Safety-wise, this van comes with Stability Control, airbags, anti-lock brakes, and a standard rearview camera. New this year is a standard Side Wind Stabilization system which is designed to help navigate crosswinds and wind gusts, a perennial bane of vans. Optional features include parking sensors, Lane Departure Warning, and telematics via the SYNC® 3 infotainment system. 
Driving and Comfort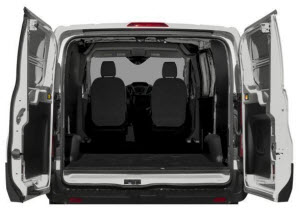 One major upgrade in the 2017 Ford Transit-250 is that the van sits lower to the ground, which not only provides more stability, but it's much easier to get into. The seats are quite comfortable and the cargo capacity is generous. Its handling is nothing short of outstanding. The responsive and agile steering are a dream come true for van aficionados, and it has a surprisingly tight turn radius. Overall, it offers a great driving experience. 
2017 Ford Transit-250 Stroudsburg PA
If you're in the Stroudsburg, East Stroudsburg, Easton, Nazareth and Lehigh Valley, PA, area and are looking for a new full-sized van for your personal or business needs, Ray Price Stroud Ford has a range of 2017 Ford Transit-250 vehicles in a variety of configurations. Contact us online or just stop in and ask about taking a test drive today!