For 40 years, the Ford F-150 has been America's best-selling truck. In 2018, the F-150 received three new engines, a better look and a suite of active-safety technologies to improve on its existing capabilities.
If you're in Stroudsburg, East Stroudsburg, Easton, Nazareth and Lehigh Valley, PA, read more about the new updates for 2018 that keep the F-150 at the top of its class.
Ford F-150 Engine and Performance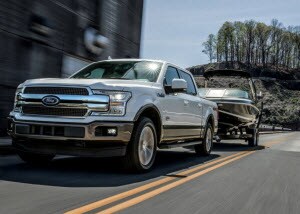 For 2018, the F-150 adds a 3.0-liter PowerStroke turbodiesel V6 to its lineup, which will likely feature twin turbos. In addition, the previous base 3.5-liter V6 engine is now a 3.3 liter, but it adds a twin-injection system to the mix and produces 282 horsepower and 253 lb-ft of torque. The 3.3-liter is standard on the F-150 XL and XLT.
Its 2.7-liter EcoBoost V6 will also get a twin-injection system, as well as keeping its compacted-graphite iron and aluminum block, exhaust-gas-recirculation system, and reduced internal friction. The EcoBoost V6 is available on the XL and XLT truck models and standard for the Lariat trim.
For the big news, the 5.0-liter Coyote V-8 will produce significantly more truck power than before, thanks to its plasma-transferred wire arc spray-bore cylinder lining that reduces weight. The Coyote V-8 is available for the XL and XLT, but standard on the F-150 King Ranch and Platinum.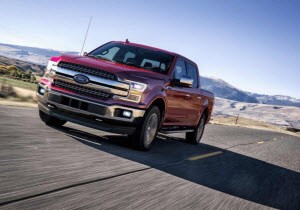 The 10-speed automatic transmission that was previously exclusive to the 3.5-liter EcoBoost is now paired with the 2.7-liter and 5.0-liter. The 6-speed transmission is still used for the 3.3-liter V6. The new F-150 transmissions combine with the engine updates and standard start/stop feature for better fuel economy.
2018 Ford F-150 Style and Technology
The existing F-150 interior is still mostly unchanged in 2018, aside from some added color options and the Kingsville upgrade for the King Ranch model. For Ford F-150 technology, there's an onboard 4G LTE data connection and Wi-Fi hotspot for Ford's Sync 3 infotainment system option.
For the first time, advanced safety features include adaptive cruise control that responds to traffic, forward-collision warning with pedestrian detection, and automatic emergency braking. The F-150 has a five-star overall safety rating from the NHTSA.
Ford F-150 Towing Capabilities
These upgrades mean nothing without improved haul, however. A sturdy rear axle is added to the towing variants to increase the maximum gross combined weight rating to 18,400 pounds. Maximum towing capacity increases to 13,200 pounds, which is a 1000-pound increase, and the highest payload capacity stays at 3,270 pounds.
Experience the F-150 Difference at Ray Price Stroud Ford
The Ford F-150 may not have had many monumental physical changes for 2018, but its impressive engine upgrades and updated security features are likely to keep it in the running for 10 Best Trucks and SUV's winner for 2018.
Are you in the market for the new 2018 Ford F-150 in Stroudsburg, East Stroudsburg, Easton, Nazareth and Lehigh Valley, PA? Stop by Ray Price Stroud Ford for more information on this spectacular truck and schedule your test drive of the 2018 Ford F-150 to see the difference for yourself!