If you're not familiar with Toys for Tots, you've likely at least seen their logo-a red train with 3 cars-at local businesses around the East Stroudsburg area. The organization does amazing work to make sure that children who might not otherwise get a Christmas can feel the love and joy that comes with the season.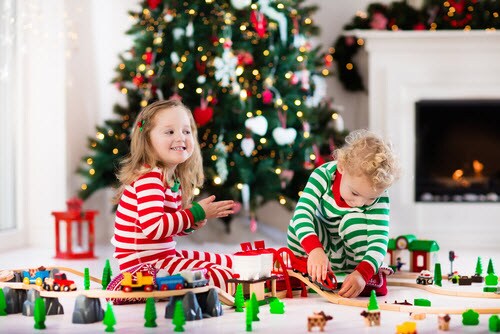 The program is run by the United States Marine Corps Reserve and is an effort to collect new, unwrapped toys from October to December. Local businesses serve as drop-off locations then those toys are wrapped and distributed to children in the local community. 
You can be part of this incredible program by donating a new, unwrapped toy at a local participating business. For your convenience, we've provided a list of 4 Toys for Tots drop-off locations near East Stroudsburg below.
4 Toys for Tots Drop-Off Points near East Stroudsburg
If you're interested in donating to Toys for Tots, be sure to take your new, unwrapped gifts to one of these local businesses: 
301 North Ninth Street, Suite A, Stroudsburg, PA
Your local Ford dealership is a perfect drop-off spot for your Toys for Tots donation. Toys are being accepted through December 14th, so be sure to stop by the showroom with a donation in hand! Check out their website for directions to search for your next vehicle and help the community have a very merry Christmas!
2885 Route 611 North, Tannersville, PA
Drop off your new, unwrapped gifts for Toys for Tots at Vincent's Deli and grab a delicious meal while you're there. Specializing in old-world style and cooking methods, this local spot is one of the best places in the Poconos to grab a bite to eat. Check out their website for directions or to see the full menu. 
2468 Route 390, Canadensis, PA
The Frog Town Inn is a bed & breakfast and restaurant that makes eating feel like a luxurious event. While you're dropping off your donation, ask for a tour and enjoy the beautiful 1800s farmhouse setting. Check out their website for directions or to book a special evening for two. 
Route 390, Mountainhome, PA
This local family-owned and -operated restaurant has been serving delicious food with a smile since 2006. The diner offers a warm and welcoming environment that makes it easy to choose it over again and again. Be sure to grab a slice of pie while you're in to drop off your Toys for Tots donation. Check out their website for directions and to see the full menu 
For a complete list of drop-off points in the East Stroudsburg area, check out the official Toys for Tots page here.