It seems like anywhere you look, there's a new brewery or microbrewery. We're not complaining; in fact, no one is more involved in the craft beer craze than we are. But with so many new breweries popping up, where do you even start? Do you have to venture all the way to Colorado or the West Coast to try the best beer in America? 
Thankfully, that's not the case. In fact, the great state of Pennsylvania is becoming more and more known for its beer brewing. And you don't have to go far from home to taste the best of the best. Here are our favorite breweries near East Stroudsburg. Be sure to check them all out this winter! 
Barley Creek Brewing Company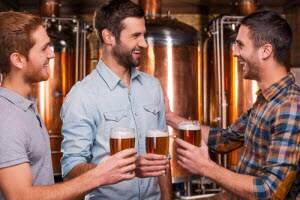 The Barley Creek Brewing Company, located in Tannersville, has been serving Pennsylvania patrons since 1995. Though alcohol and brewing are certainly at the center of their offerings, the brewery is a fun place to take the whole family. Kids can hang out in the game room and munch on favorites off the kids' menu, while mom and dad can enjoy a nice selection of microbrews and authentic pub faire in one of the many rustic dining rooms. Go before 12:30 PM on any day of the week, and you can partake in a free tour of the brewery, complete with free beer tastings. What more could you want? Customers are especially fond of the Onyx Bar room, which brings the outside in with huge, garage-style windows. Definitely worth the trip! 
Can't get enough of Barley Creek? Be sure to check out the Morning Toast! A new restaurant that is now open for breakfast with an distillery on-site. Check out their website here - The Morning Toast
Two Rivers Brewing Company
This is one of the most interesting stories of all the breweries near East Stroudsburg. Four friends, comprised of two couples, decided to start a brewpub on somewhat of a whim, and after a few months diligently drafting a business plan, bought the old Mount Vernon Hotel via a sheriff's auction in the summer of 2011. The rest is history! Two Rivers Brewing Company offers several flagship brews, like the Mt. Vernon Lager and Colonel Left Eye IPA, as well as a rotating list of seasonal selections. The restaurant also offers a wide selection of foods sourced from fresh, local ingredients. With the casual atmosphere and awesome beer selection, you'll be returning in no time! 
Weyerbacher Brewing
Weyerbacher Brewing has been open in nearby Easton for over 20 years. They've come a long way since brewing their first Raspberry Imperial Stout, but we recommend trying them out for yourself! Their selection of year-round and seasonal drafts is completed by cheeky names such as Blasphemy and Insanity. Check out their website for upcoming events at the taproom. Who knew yoga and beer went together so well? 
By visiting these local breweries near East Stroudsburg, you're not just having fun, you're helping support a local community during a time when we need it most. And we want to encourage you to keep doing so!