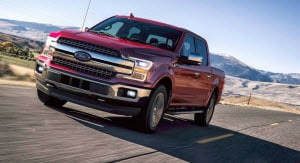 If you're in the market for a reliable pickup truck, there's no better choice than a Ford. Ford has built a reputation for tough trucks that are sure to get the job done, whether you need to haul cargo in the bed or tow something from behind. In fact, Ford's F-150 is the top selling pickup truck in the country, but is it right for you? 
The F-series has a few options beyond the F-150. One of them sits at the next level: the F-250. While it packs more of a punch than the F-150, you may not necessarily need the extra power for your job. Alternatively, you might need all the strength you can get. Either way, each truck has distinct features that could be appealing to you. Learn about the differences between the 2018 Ford F-150 and the 2017 Ford F-250 to discover which of these powerful trucks is best suited for your needs.
2018 F-150 Performance
You need your truck to perform well, whether it be for your job or for your family camping trip. Luckily, the F-150 is fairly versatile in its abilities. If you favor fuel efficiency, you can sacrifice a bit of power and opt for the V6 engine, which can offer an impressive EPA-estimated 26 mpg on the highway. This doesn't mean there aren't more powerful options, however - select the 5-liter V8 engine, for instance, and watch as it produces up to 395 horsepower, surpassing some F-250 models. 
Check-out Ray Price Stroud Ford's F-150 Technology Review for more info on this Ford pickup truck.
2017 F-250 Performance
If the F-150 features impressive amounts of raw power on the higher trim levels, then you know the F-250 works much harder. Eclipsing the F-150 in terms of torque, the F-250 was built to tackle some of the hardest jobs with its incredible 18,000-pound towing capacity. The top-level F-150 can only tow up to 12,200 pounds which, though amazing in itself, falls short when compared to the F-250.
Extra F-Series Features
While performance may be the primary deciding factor for anyone buying a pickup truck, extra features can make a real difference if you care about luxury and technology. For example, both trucks feature available heated and ventilated seats - who said you can't work hard and relax comfortably at the end of your shift? Each truck also includes the innovative SYNC 3 infotainment system, considered to be the most intuitive system on the market.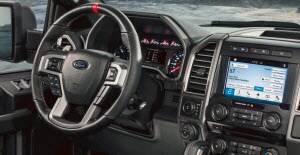 One benefit of the F-150 is its automated parking system, using sensors and cameras to scan for parking spots before automatically steering you into them. All you have to do is control the acceleration and the brakes. The F-250 has no similar feature, which is unfortunate as it can be considerably more of a challenge to park. For those confident behind the wheel, however, this is a minor detail.
Ford Safety
Whether you're heading to a jobsite or enjoying a casual cruise, safety is the most important part of your drive. For the past several years, Ford has excelled at crash safety tests, earning numerous five-star overall ratings. Additionally, both trucks are built with heavy-duty steel frames designed to keep you safe inside. The only real difference between is safety tech. 
Numerous driver assistance systems are featured in both models, but the F-250 has an additional benefit. Since the F-250 is more likely to be used by people who need to tow a great deal, it includes the Ultimate Trailer Tow Camera System, keeping you aware of everything around your towed cargo.
Test Drive Your Favorite F-Series Truck at Ray Price Stroud Ford
Who wins in the 2018 Ford F-150 vs. 2017 Ford F-250 competition depends on what you value. If you want fuel efficiency and convenience, the F-150 might be ideal for you. If you need a heavy-duty, high-performance truck for hard work, then the F-250 is likely your best choice. The only way for you to know for sure is to come experience these incredible trucks yourself at Ray Price Stroud Ford. 
All drivers in the Stroudsburg, East Stroudsburg, Easton, Nazareth and Lehigh Valley areas are invited to explore our expansive inventory and learn more about our wide selection. Visit us or call us to schedule your test drive today!