If you're shopping for a truck, then there's probably one thing you're really in the market for: muscle. You want a high-powered towing machine that doesn't skimp on the amenities.
So, in a battle of sheer brawn, which should Stroudsburg, Lehigh Valley, and Nazareth customers turn to: the 2017 Ford F-150 or the 2017 Ram 1500? In this comparison, the Ray Price Stroud Ford team is going to show you. 
The Heavy Hauler
In terms of sheer power, it's a very close race between the Ford F-150 and the Ram 1500. Both are equipped with six-cylinder engines and a fairly durable frame. Nevertheless, the Ford F-150 manages to forge ahead in the hauling department, towing up to 5,000 pounds. The Ram 1500, on the other hand, only manages to pull 4,580 pound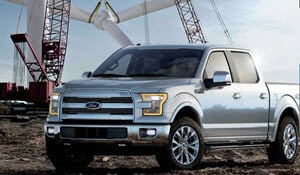 s.
So, how is this achieved? Both are equipped with specific towing features, such as the wiring harness and trailer sway control. However, the F-150 includes a feature the competition is lacking.
Its six-speed automatic transmission is equipped with a tow and haul mode. This dedicated towing feature gives the F-150 the push that it needs to take the lead.
Learn more about the Ford F-150's powerful performance in the comprehensive review. 
A Bed Fit for a King
When you've got overflow cargo that just won't fit on the trailer, you're going to need a big bed backing you up. In this category, the Ford F-150 once again overshadows the competitor.
At 78 inches long and 50.6 inches wide between wheel wells, the F-150 bed includes a total of 62.3 cubic feet of cargo space. The 76.3 inch long Ram 1500 bed, on the other hand, only offers 57.5 cubic feet.
Stay Safe on Your Next Adventure
You're buying a truck because you want to head off the beaten path. As fun as this can be, it can be equally dangerous. You're going to need a comprehensive safety array to support you.
The 2017 Ford F-150 not only earns a 5-Star Overall Safety Rating from the National Highway Traffic Safety Administration, it is also granted a 2017 TOP SAFETY PICK from the Insurance Institute for Highway Safety. The Ram 1500, unfortunately, does not earn any safety commendations.
For Your Entertainment
You've got power, cargo space, and safety. If you're really looking to sweeten the deal, though, your truck needs to come equipped with plenty of entertainment features. The Ford F-150 most certainly does.
Not only will F-150 drivers have a USB port and auxiliary jack™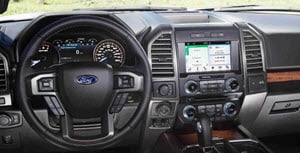 . This feature allows for total phone integration, offering you access to music and apps as well as hands-free capabilities. 

 to connect their mobile devices with, they'll also have the available SYNC® AppLink
The Ram 1500 comes with a USB and auxiliary as well, and the Uconnect® suite is available. Unfortunately, it is not quite as comprehensive as SYNC®.
Don't Settle for Anything Less Than the Best
When you live a rugged life-and in the Stroudsburg, Lehigh Valley, and Nazareth area, you probably do-you need a truck that's tough enough to match.
The 2017 Ram 1500 is powerful in its own right, but time and again, it falls short of the more versatile 2017 Ford F-150. To learn more about this excellent vehicle, call our team at Ray Price Stroud Ford today!