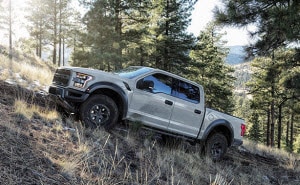 Full-sized pickup trucks offer modern engine advancements, solid fuel economy, great technology features, and plenty of comfort for the whole family. All of these come on top of the power and performance for which these trucks are known and appreciated for throughout the Stroudsburg, East Stroudsburg, Easton, Nazareth and Lehigh Valley, PA, regions. 
Among the best pickup trucks on the market today are the Ford F-150 and the Toyota Tundra. While both offer a supreme range of options, features, and performance, many wonder how they stack up in direct comparison. Discover the range of comparative options and features between the 2017 Ford F-150 vs Toyota Tundra, and learn which is the best full-sized pickup truck for you. 
Ford F-150 vs Toyota Tundra
Both the 2017 Ford F-150 and the new Toyota Tundra are impressive entries into the sector this year. Both are heavy hitters when it comes to hauling and towing, and offer a solid and ultramodern range of technology and convenience features, as well as luxurious comfort and space inside. Let's look at how they compare. 
Performance and Engines
Regarding performance in the 2017 Ford F-150 vs Toyota Tundra truck comparison, the Ford F-150 is among the best-in-class leaders for its variety of engines and the performances they deliver. Its 3.5L V6 engine can put out 375 horsepower plus 470 lb-ft of torque, enabling it to haul a maximum towing capacity of 12,000 pounds. 
The Toyota Tundra doesn't slouch on performance, but simply can't match the output of the Ford. Its powerful 5.7L V8 delivers 381 horsepower but only 401 lb-ft of torque, which results in a maximum towing capacity of only 10,500 pounds. 
Learn more about the Ford F-150's towing and payload capacity here. 
When it comes to off-road performance, these two trucks are very close. The Tundra's Bilstein shocks and off-road-tuned suspension offer superior performance in rough terrain, but so does the F-150 Raptor with its driver-adjust terrain management and control system, which allows for outstanding control to optimize your truck's performance in these conditions. 
Safety Ratings
The 2017 Ford F-150 offers outstanding safety options and features, which garnered it a perfect 5-Star Overall Safety Rating in government crash tests. Between Collision Warning and Mitigation, Adaptive Cruise Control, Emergency Telematics, the MyKey® geofencing system, 360-degree surround-view camera, and other features, it's hard to beat. 
The Tundra, while it doesn't quite match up, is very close. It gets a top Good score from the Insurance Institute for Highway Safety and features a rearview camera, Blind Spot Monitoring with Rear Cross-Traffic Alerts, and other modern safety features. 
Comfort and Technology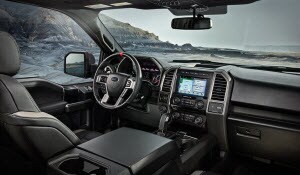 When comparing the 2017 Ford F-150 vs Toyota Tundra, both vehicles offer a supremely comfortable ride, but the Ford offers more passenger space and premium features like heated seats, leather upholstery, and others that border on luxury class. Its SYNC® 3 infotainment system features the most advanced technology possible, with Android Auto and Apple CarPlay app integration, GPS navigation, Bluetooth®, and more. 
The Toyota is a solid choice with plenty of headroom and legroom up front, a solid infotainment system that allows you to sync your device via Bluetooth® for phone and audio, and a range of advanced technology features. 
Ford F-150 vs Toyota Tundra Truck Comparison
In the Ford F-150 vs Toyota Tundra truck comparison, we found that the clear winner of the matchup is the Ford F-150, with world-class engine options, outstanding comfort and technology, and superior safety features and performance. If you're in Stroudsburg, East Stroudsburg, Easton, Nazareth and Lehigh Valley, PA, contact us online or stop into Ray Price Stroud Ford for more information today!