A nice meal on Valentine's Day with your other half is as classic as a box of chocolates. A romantic atmosphere, top-notch service, and divine cuisine is a great way to celebrate February 14th, and the following Stroudsburg area eateries achieve all three.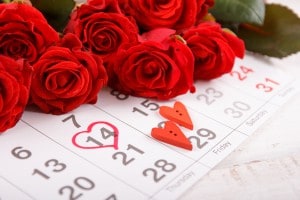 Learn more about these stellar local restaurants below and make a reservation today for a Valentine's date you won't soon forget!
Garlic Prime Steak & Seafood
An exploration of creative American cuisine with international influence, Garlic Prime Steak & Seafood offers refreshing, upscale dishes that blur culinary lines. Still, hand-cut steaks and farm-to-table fare isn't their only forte.
Garlic Prime's intimate dining room is perfect for a date with your Valentine-it's chic yet secluded with local art by Pocono artists dotting the walls.
Order up an appetizer to share, like garlic cheese fondue served in a cast-iron skillet with crostini for dipping. Then, choose from premium cuts of meat, including New York Strip and Filet Mignon. Those seeking lighter fare will want to try Garlic's fan-favorite seared scallops in a black garlic puree.
Reserve a Table for Valentine's Day.
Oyster Seafood & Steakhouse
If seafood is your first love, you'll definitely want to check out Oyster Seafood & Steakhouse for a special occasion like Valentine's. Settling into Oyster's swanky atmosphere is effortless: mingle at the martini bar before taking a seat in their soft-lit fine dining room.
One of Oyster's award-winning apps, such as their spicy tuna tempura roll, will get your appetite primed for a main course. For the best of both worlds, elect for sumptuous surf and turf entrée-a half-pound lobster tail and 10 oz. filet mignon make as good a pairing as you and your date.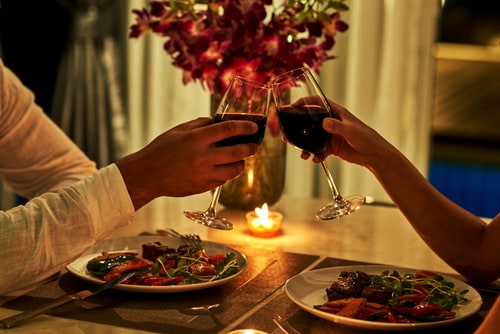 Finish off your meal by sharing an indulgent dessert like the chocolate decadence cake, which features layers of dark chocolate drizzled with hot white chocolate.
The Frogtown Chophouse
An exclusive hunting club in the 1800s and a summer resort in the 1950s, the Woodfield Manor, where you'll find The Frogtown Chophouse, has been many things-all of them classy.
The chophouse's residence is regal and rustic with an eye-catching stone fireplace and unique lamp-style chandeliers. And the menu? Choose comfort dishes to warm your heart and your stomach! Savor homemade baked macaroni and cheese with a drizzle of white truffle oil, or choose from an impressive lineup of chops, including dry-aged Porterhouse and New York Strip with your choice of Cajun seasoning, peppercorn crust, or burgundy rub.
Make a Reservation for Wednesday, February 14.
Love is in the air…
We know you'll be smitten with these local Stroudsburg area restaurants. Make a reservation today!