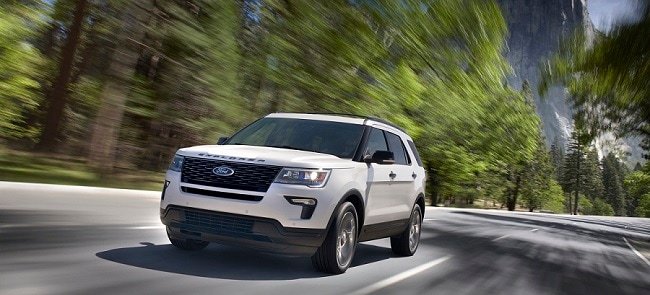 Whether you're having a night out in Easton or going skiing around Stroudsburg, there's a certain level of confidence that comes from being behind the wheel of a sturdy and capable SUV. If that's what you're looking for during your drives around East Stroudsburg, Lehigh Valley, and Nazareth, you'll be happy in the driver's seat of either the 2018 Ford Explorer, Dodge Durango, or Chevy Traverse.
To figure out which of these three powerhouse SUVs is best for drivers in our area, the team at Ray Price Stroud Ford created this 2018 Ford Explorer vs. Dodge Durango vs. Chevy Traverse comparison.
Learn more about the Ford Explorer through our detailed reviews.
Convenience Features in the Explorer, Durango, and Traverse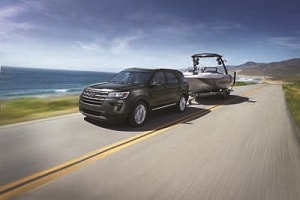 Whether you're driving the Ford Explorer, Dodge Durango, or Chevy Traverse, you're going to have the added benefit of high-tech convenience features that can help make your commutes through town even more enjoyable.
For example, all three SUVs make automatic cruise control available. This system essentially lets you set it and forget it with your cruise control, adjusting your cruising speed automatically when you approach slower-moving traffic.
The Durango and Explorer also make rain-sensing windshield wipers available, which turn on and adjust their speed depending on the rate of precipitation on the windshield, so you don't have to fiddle with them.
The Ford Explorer makes an especially handy feature available, as well, with Enhanced Active Park Assist. This system helps you locate an open spot and parallel or reverse-perpendicular park into it. Simply follow the prompts to brake and accelerate and let your Explorer take care of steering.
A comparable feature isn't available for the Durango or Traverse.
Ford Explorer vs Dodge Durango vs Chevy Traverse: Handling Capabilities
Area drivers know it's important that your car can take on snowy weather and winding mountain roads. Luckily, the Ford Explorer, Dodge Durango, and Chevy Traverse all have those capabilities, with each SUV making roll stability control features standard.
They all also make a smart all-wheel drive (AWD) system available. This system monitors your driving conditions and automatically redistributes torque as necessary to help improve your traction on wet roadways.
However, if you approach an especially winding back road, you may find yourself better equipped to take it on in the Ford Explorer thanks to standard Curve Control. This is a Ford-exclusive feature that senses if you're approaching a curve too quickly. If you are, the Curve Control system automatically slows you down to a safe speed to help prevent rollover.
Visibility-Enhancing Technology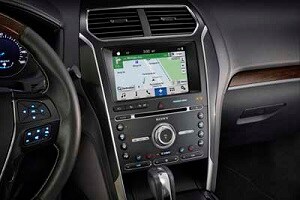 The Ford Explorer, Dodge Durango, and Chevy Traverse all make extra features available to help enhance your view of the road ahead. Rearview cameras are available in all three SUVs, for example, so you have a clear picture of the area behind you when in reverse.
They also have available auto high beams, so that you don't have to worry about toggling them on and off when approaching oncoming traffic; this feature does it automatically.
The Explorer also lets you add on an available front 180-degree camera. This camera gives you a clear view of the space directly ahead of you, making it safer to pull out into traffic when your visibility is impaired. For example, it helps when making a left turn onto a city street with cars parked on either side.
Without this kind of feature available, drivers in the Durango and Traverse may have a more difficult time navigating tighter streets.
2018 Ford Explorer vs Dodge Durango vs Chevy Traverse: Our Winner
The team at Ray Price Stroud Ford compared the 2018 Ford Explorer vs. Dodge Durango vs. Chevy Traverse and found that the Explorer has the most to offer drivers around East Stroudsburg, Nazareth, and Lehigh Valley.
If you want to take this SUV out for a spin around Stroudsburg and Easton, come to our Ford dealership and we'll get you behind the wheel.
Contact us today to schedule your test drive of the 2018 Ford Explorer!