The Ray Price family of dealerships has been around almost as long as cars have existed. From our very first small franchise all the way back in 1913 to today's complete family of dealerships, we're still family-owned and -operated, serving Stroudsburg, East Stroudsburg, Easton, Nazareth and Lehigh Valley, PA, for over 100 years.
In this time, we've built a legacy of trust by offering the very best Ford models and services to the entire region. As part of this initiative, we offer a range of helpful resources to everyone who visits our showroom or website. At Ray Price Stroud Ford, we consider ourselves to be the very best Stroudsburg Ford dealer for sales and service.
A Range of Resources
We're not just here to sell a car. We seek to be a complete resource of information on Ford vehicles and community issues for our customers. Check out our Ford vehicle reviews or comparisons to learn more about your favorite models. You can read about the more detailed features of each model and see how they stack up to the competition-an invaluable resource when making your decision.Whether you need directions to our facility or an easy way to get in touch, we can provide that for you right here.
Looking for more information about us and our history? We have that covered with easy links to our story, and to why so many people choose Ray Price Stroud Ford. We provide information about sales and service, as well as how you can join our team as a member of our dynamic staff.
Plenty of Ford Vehicle Options
A vehicle is a big purchase, and when it's time to buy, you should have plenty of options at your disposal. Ray Price Stroud Ford has an expansive inventory of new Ford and pre-owned vehicles to match every taste. While you can simply view vehicle specifications on our online inventory, we also feature plenty of vehicle reviews and comparisons. 
A Member of the Community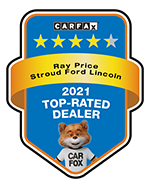 We're proud members of our community. We don't just sell cars to locals; we live and work here, as well. That's why we provide links to upcoming events in Stroudsburg about the community at large.
Without the locals who've frequented our dealership for years, we wouldn't be in business. That means a great deal to us. To show our gratitude, we're committed to giving back whenever we can.
Our favorite charities include Drive 4 Ur School, a cause that supports the football and boys' basketball teams at Pleasant Valley High School. We've also participated in Fill a Honda with Hope, an annual fundraiser that collects household items for the American Cancer Society's Hope Lodge.
Visit Your Ford Dealer in Stroudsburg PA
At Ray Price Stroud Ford, we're proud to serve the Stroudsburg, East Stroudsburg, Easton, Nazareth and Lehigh Valley, PA, regions. If you'd like more information about who we are and what we do, contact us online or stop into our showroom and talk to our customer service representatives today!