Ford Tire Center Stroudsburg

Your tires are one of the most important parts of your vehicle when it comes to fuel efficiency, safety, and overall operation. Without working them, you'd have a hard time getting from your driveway to your destination. That's why our Ford tire center in Stroudsburg is here to help with any tire issues or concerns you might have. We're fully trained in tire repair and tire replacement allowing our technicians to offer quick service when you need it most.
To put it a different way, we're your trusted Ford tire center near Stroudsburg, East Stroudsburg, Easton, Nazareth and Lehigh Valley, PA.
Schedule your tire repair or replacement online today!
Learn More About Tires: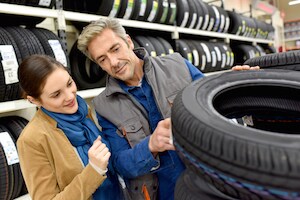 Ford Tire Shop
Regardless of what type of tires you have on your car, our expert automotive technicians will know exactly what to do if there's an issue. We have years-even decades-of experience helping drivers just like you. Still, it doesn't stop there. Our courteous staff treats every driver with the respect they deserve. They'll work fast, so you can get back on the road. Plus, we offer tire and service specials to choose from.
How to Spot Tire Issues
Vibrating: Your car is designed to provide a relatively smooth driving experience. Any vibrations might indicate a tire issue. Not only is this a frightening sensation, but it can be downright dangerous as well. Our technicians will repair your tires to correct the issue.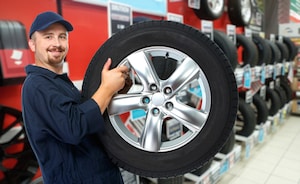 Low Tire Pressure: You put more air in your tires frequently, but they still seem to lose pressure quickly. Having tires with low air pressure can result in lower fuel efficiency, so don't let this go unchecked.
Bubbles, Cracks, and Blisters: Driving on tires that are damaged can be extremely dangerous. Get service immediately.
Tire Tread is Low: When tire tread is low, braking distance may be increased and traction control may be lessened. 
Visit the Ford Tire Center in Stroudsburg 
Are you in the Stroudsburg, East Stroudsburg, Easton, Nazareth and Lehigh Valley area? Then, Ray Price Ford tire center can provide you with reliable tire service. Order your tires above or contact us today. We look forward to working with you!