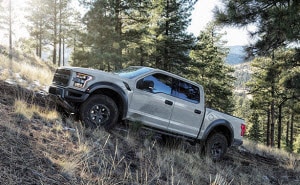 When our customers in the Stroudsburg, East Stroudsburg, Easton, Nazareth and Lehigh Valley areas ask what's the best way to lengthen the lifespan of their 2017 Ford F-150, our answer is simple: maintenance.
Some drivers have a hard time keeping track of their truck maintenance, but all you really need to do is pay attention to your truck dashboard symbols. To help you determine what those less common lights mean, our team at Ray Price Stroud Ford put together this useful guide. 
Indicator Lights Meaning 
Indicators are the less pressing dashboard lights. They illuminate just to tell you when a specific vehicle feature has engaged, or when service will soon be required.
Adaptive Cruise Control (ACC) Indicator: This light looks like a car set over a speedometer. It turns on to indicate when ACC is engaged.
Blind Spot Monitor Indicator: This light is depicted as one vehicle driving in another's blind spot. It turns on and off to indicate your Blind Spot Monitor is active.
Brake System Indicator: This light indicates that your parking brake is engaged while the engine is running. It appears as an exclamation point and the letter P, both in circles. When you see this light, pull over and disengage your parking brake.
Cruise Control Indicator: This light looks like a speedometer and illuminates when cruise control is turned on.
Electronic Locking Differential Indicator: Depicted as a vehicle frame with an X in the rear, this light turns on when the electronic locking differential is being used.
4-Wheel Drive Indicators: These lights will turn on when a specific drivetrain is selected. They will appear as either 2H, 4A, 4L, or 4H.
Front Fog Lamps Indicator: This light looks like a headlamp with crisscrossed lines in front of it. It illuminates when your fog lamps are turned on.
Hill Descent Indicator: This light appears when your Hill Descent Control is turned on. It looks like a truck driving down a hill.
Sport Mode Indicator: This light is depicted as an S and turns on with Sport mode.
Auto Start-Stop Indicator: This light turns on when Auto Start-Stop is in use. It looks like the letter A encircled by an arrow.
Traction and Stability Control: When this light appears, your Traction Control system is engaged. It's depicted as a vehicle on a curvy road. When you see it, slow down and drive cautiously. 
Dashboard Warning Light Meanings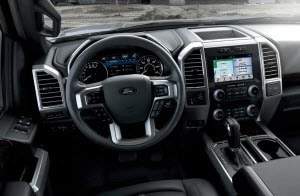 Ford Warning lights are those that'll require immediate attention. You can address them by contacting your Ford dealer as soon as possible.
Anti-Lock Braking System (ABS) Warning: This light will turn on when your ABS has malfunctioned. It appears as the letters ABS inside a circle.
Battery Warning: This light looks like a battery and illuminates to inform you of an error in the charging system.
Check 4x4 Warning: This light is depicted as a wrench and will say CHECK 4X4 when there's been a malfunction in the system.
Electric Park Brake Warning: This light appears as a zig-zagged arrow inside a circle. It illuminates to warn you of a malfunction with the parking brake.
Engine Coolant Temperature Warning: If the engine coolant is too high, this light will turn on. It looks like a thermometer submerged in liquid. When it turns on, pull over right away and allow the engine to cool.
Engine Oil Warning: This light is depicted as a dripping oil can. If it illuminates while driving, it indicates an error. Stop your truck immediately to check the engine oil.
Low Tire Pressure Warning: This light looks like an exclamation point inside of brackets. It turns on when the pressure in one or more of your tires is low. Consult your owner's manual to determine proper tire pressure.
Powertrain Malfunction Warning: This light also appears as a wrench. It illuminates when there's an error in the powertrain or all-wheel drive system.
Service Engine Soon: When this light turns on, there's a general problem within the engine, which is exactly what it appears as.
Transmission Tow/Haul Warning: Quite simply, this light says TOW HAUL. It appears when there's an error in your towing system. 
Need More Information?
Maintenance is easy when you understand your Ford dashboard symbols. However, if you see an unknown indicator pop up on your dash, don't hesitate to schedule a service appointment at Ray Price Stroud Ford. We're happy to help all our Stroudsburg, East Stroudsburg, Easton, Nazareth and Lehigh Valley customers learn about their 2017 Ford F-150.