As a proud owner of a Ford Fusion in Stroudsburg, Lehigh Valley, or Nazareth, it's important to get ahead of issues you may encounter with your vehicle to make sure you protect your investment. One way your smart vehicle does that is by using the dashboard lights to notify you when something is amiss.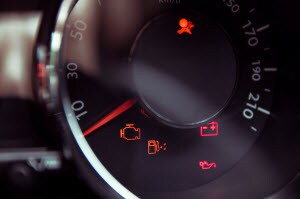 However, with so many lights that mean so many different things, it's good to have a reference so you know exactly what your car is trying to communicate to you. We at Ray Price Stroud Ford hope this Ford Fusion dashboard light guide helps. Let's get started!
Indicator Lights vs Warning Lights
The first thing you need to know when trying to understand your Ford dashboard symbols is that there are two different kinds: indicator lights and warning lights.
Indicator lights are simply meant to notify you when a system is on or in use. Everything is in perfect working order. The dashboard lights are communicating to you that they are on. On the contrary, warning lights serve a different, and perhaps more important, purpose. These lights are meant to raise the alarm when something is wrong.
Indicator Lights Meaning
The following systems are represented by indicator lights on your Fusion's dashboard...
Cruise Control: The cruise control light will turn on when you're using cruise control. The light for this system looks like a mileage gauge with an arrow.
 
Ford Fusion AdvanceTrac: This system is responsible for traction control. When it's active, a light in the shape of a car with wiggly traction marks will light up on the dashboard.
 
Front Airbag: The front airbag light looks like a person buckled into a seat with a circular bubble in front of him. You'll spot this light each time you start your car. If it doesn't come on, stays on, or flashes, you'll need to have your airbag system looked at.
 
High Beams: When your high beams are in use, a light resembling a half circle with straight lines will come up on your dashboard.
Dashboard Warning Lights Meanings
Now that we've covered the indicator lights found on your Fusion's dashboard, let's take a look at the warning lights...
Battery: The battery light on your dashboard lets you know when something is wrong with your battery. The light is shaped like a battery with a plus and a minus, so this light will be easy to spot.
 
Brake System: Your brake system light might come on for a couple of different reasons, such as low brake fluid or your emergency brake is still being used. These problems will be represented by a circle-shaped light with ABS (for Anti-Lock Braking System) in the middle.
 
Engine Coolant Temperature: If you see this light come up, you need to pull over and turn off your car immediately because it means that your engine is dangerously overheated.
 
Engine Oil: This light will come on when your oil level is low. Oil is essential for your engine to run, so you'll need to pull over and call for help when you see the little oil can light come up on the dashboard.
 
Low Tire Pressure Warning: The system that monitors your tire pressure will notify you if you any of your tires are leaking or are low on air by illuminating a tire-shaped light on your dashboard.
Need More Information?
We know how important your Fusion is to you, and we hope this guide gave you a better understanding of how to diagnose problems with it. Seeing lights on dashboard that's not listed here? Or, just have a question? Contact us at Ray Price Stroud Ford today, and we'd be happy to help! Or, schedule your service with us online today.