When it comes to the car-buying process, most of us can probably agree that finance is one of the more stressful aspects. If coming up with a budget isn't tedious enough, then applying for a loan certainly is. Especially if you don't have the right team on your side to get you approved.
Of course, this isn't a problem Stroudsburg, East Stroudsburg, Easton, Nazareth and Lehigh Valley, PA drivers are going to have when shopping with Ray Price Stroud Ford. Our team of financial experts is known for tackling some of the trickiest bad credit car loans in Pennsylvania.
Get Approved for Your Bad Credit Car Loan in PA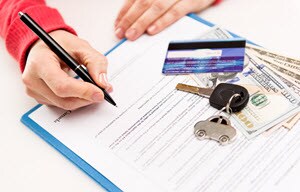 At Ray Price Stroud Ford, our family has been serving the area for over 100 years. Quite literally, we've been in the car business almost as long as cars have been around. So, how have we stuck around so long?
At our dealership, we truly love cars. Simply the revving of an engine is enough to get us pumped. And that's a passion that we want to share with all of you.
Some dealerships will bog you down with the rigmarole of the car-buying process, making it impossible to really sit back and enjoy things. But not here. We shoulder the burdens of finding a bad credit car loan so that you can get excited.
Our Finance Department is One You Can Trust
Our financiers aren't just knowledgeable-though truly, they are-but they're also understanding. Naturally, they work with some equally understanding lenders, many of which specialize in subprime loans.
So, if you have bad credit, or you've had difficulties making payments in the past, try not to worry too much. Our finance personnel are the intermediaries between you and the lender. They're committed to getting you approved for you bad credit car loan, no matter the circumstances.
Nevertheless, auto finance is still a highly personal matter, so we understand if you're a little hesitant to sit down with a stranger. Stop into Ray Price Stroud Ford and get to know these folks a little bit before you buy. We're sure you'll feel at ease in no time.
Take Advantage of Our Car Loan Resources
To get you prepared for purchasing your next car, we offer a number of free resources on our website, including finance tools. Be sure to take a look at them before stopping into our dealership.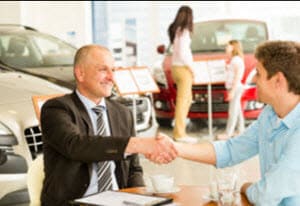 The Online Finance Application: This is the quickest, easiest way to apply for financing. All you've got to do is enter a bit of information and you're good to go. It should only take five minutes!
The Credit Estimator: Unsure what your credit score actually is? No problem. You're entitled to one free report a year with Equifax. Request yours online today with this simple tool.
Instant Cash Offers: If you're looking to trade in your current vehicle, use this tool for an instant cash offer. Trading has never been easier!
Bad Credit Car Financing at Ray Price Stroud Ford
There are few dealerships that make it as easy to get approved for a bad credit car loan in PA as Ray Price Stroud Ford. So, let us alleviate your stress. Stop in to see our finance department today for more information!