The return of the Bronco namesake means adventure and excitement for anyone driving the SUV around East Stroudsburg, Stroudsburg, Nazareth, Easton, and Lehigh Valley, PA. There are two specific models that tout the Bronco title: the Ford Bronco and Ford Bronco Sport.1
What do these SUVs have in common and how do they differ? That's what our 2021 Ford Bronco vs. Bronco Sport comparison is all about.
The coming sections will discuss the performance and configurations of each Bronco. You can come by Ray Price Stroud Ford and test drive the two SUVs!
---
Trim Levels and Configurations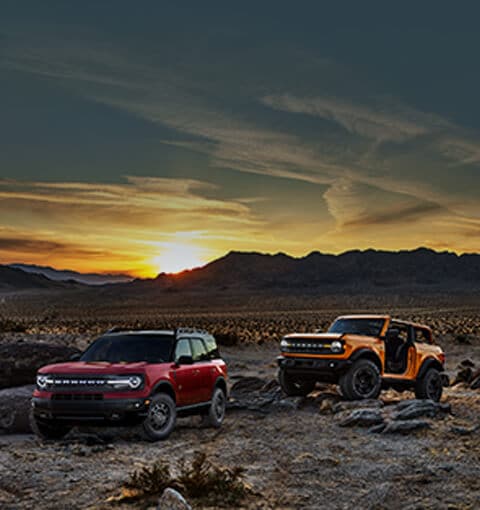 You likely won't see identical Ford Bronco or Ford Bronco Sport SUVs rolling down the street because Ford has given each model a lengthy list of customizable features and trims.
For instance, the 2021 Ford Bronco can be had in 2-door or 4-door configuration. The 4-door arrangement comes standard with a folding soft top, but you can also choose a modular hardtop or dual tops. Also, you can remove the hardtop and the doors to create an open-air driving experience.
The trim list for the 2021 Ford Bronco starts with the Base configuration and then includes the Big Bend, Black Diamond, Outer Banks, Badlands, and Wildtrak.
The 2021 Ford Bronco Sport is only available in a 4-door configuration and doesn't offer the same features for removing the roof and doors. The trim list is still plenty diverse, though. The Base starts everything off and the rest of the trims are essentially a condensed version of the Bronco:
---
Performance Options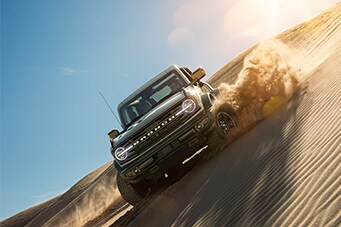 Helping you confidently move across pavement or over rugged terrain is a primary goal of both the 2021 Ford Bronco and Ford Bronco Sport.
If you're considering the Bronco, the 2.3L EcoBoost® 4-cylinder motor is going to deliver up to 270 horsepower and 310 lb-ft of torque. For even more get-up, you can choose a larger 2.7L EcoBoost® V6 engine that creates up to 310 horsepower and 400 lb-ft of torque.
What's also unique about the Ford Bronco is that the 2-door configuration comes standard with a 7-speed manual transmission for those who enjoy choosing their own gears. You don't have to go manual if you don't want to, as a 10-speed automatic is available.
The 2021 Ford Bronco Sport follows a similar strategy. There's a standard 1.5L EcoBoost® 3-cylinder engine, which produces up to 181 horsepower and 190 lb-ft of torque. A 2.0L EcoBoost® 4-cylinder motor capable of up to 250 horsepower and 277 lb-ft of torque is also available.
The Bronco Sport doesn't offer a manual transmission, yet the 8-speed automatic transmission can be upgraded to a SelectShift® version with paddle shifters if you're interested in moving from gear to gear yourself!
---
2021 Ford Bronco vs Bronco Sport: Can't Go Wrong
Both the 2021 Ford Bronco and Ford Bronco Sport are customizable, deliver an engaging experience behind the wheel, and can easily travel off-road around Lehigh Valley, Easton, or anywhere else. So the choice is likely down to your personal preferences.
At Ray Price Stroud Ford, we'll happily answer your questions before getting you onto the streets of East Stroudsburg, Stroudsburg, and Nazareth, Pennsylvania, for a test run!
1 Model not yet released. All specs mentioned herein have been cited from Ford.com and are subject to change by the manufacturer.