When you're a driver in the East Stroudsburg, Lehigh Valley, and Easton areas, it's important to know the maintenance schedule for your Ford Edge. This way, you'll know when to bring your SUV by the service center for the routine maintenance that's crucial to keeping it in the best shape possible around Stroudsburg and Nazareth.
Check out this Ford Edge maintenance schedule from Ray Price Stroud Ford to learn more about your car's service needs.
Every 10,000 Miles: Oil Change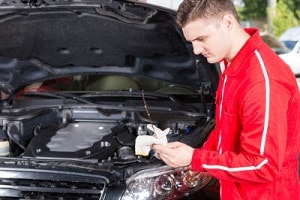 With every 10,000 miles, your Ford Edge is going to be due for a multi-point inspection by a factory-trained technician. By having this done regularly, you'll be more likely to catch any possible issues before they become problems. You'll also want to inspect the following:
Automatic transmission fluid level 
Engine cooling system and hoses 
Exhaust system and heat shields 
Half-shaft boots 
Steering linkage and ball joints 
Wheels and related components 
Tire wear and tread depth
You should have your oil changed at this time, as well. Keep an eye on your Intelligent Oil Life Monitor-if equipped. This dashboard light will chime and illuminate a message that says "change engine oil soon" or "oil change required" when you're due for this service.
Never go more than one year between oil changes, regardless of mileage, otherwise you may experience costly engine damage.
Every 20,000 Miles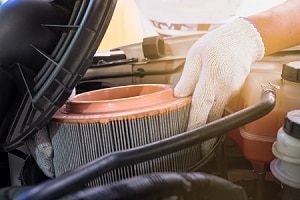 At the 20,000-mile mark, you'll be due for your 10,000-mile service again. On top of that, be sure to also replace the cabin air filter.
Ford Edge Maintenance: Every 30,000 Miles
For every 30,000 miles you drive in your Ford Edge, you should remember to replace the engine air filter. This will help you protect your engine from debris that can cause irreparable damage. Also schedule your 10,000-mile service.
100,000-Mile Service
Reaching the 100,000-mile mark is a true milestone and indicates that you've been doing a great job of caring for your Ford Edge. At this time, you'll be due for your 10,000-mile and 20,000-mile service. You'll also want to perform a few additional items:
Replace your spark plugs
Inspect your accessory and drive belts
Change your engine coolant
After this first change, you should begin to regularly change your engine coolant every 50,000 miles. You should also have your accessory belt inspected every 20,000 miles from this point forward until it needs to be replaced.
Every 150,000 Miles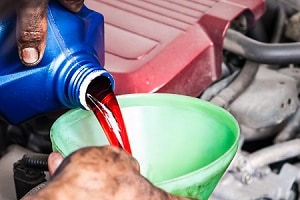 As your Edge gets more experience under its tires, it'll need to have a few things replaced to keep it working as productively and reliably as it has up to this point:
Flush your engine transmission fluid
Replace your accessory drive belts (if not done already)
Replace your timing belt
Replace your oil pump drive belt (on 4-wheel drive vehicles)
You'll also need to have your 10,000-mile service performed at this time.
Schedule Maintenance for Your Ford Edge
If your Ford Edge is due for routine maintenance, contact the service center at Ray Price Stroud Ford, near Stroudsburg, Nazareth, and Easton. Our team of factory-trained technicians can tell you more about your Ford Edge maintenance schedule and help you get the thorough and efficient service you need to take on your East Stroudsburg and Lehigh Valley commutes.
Make an Inquiry
Showroom Hours
Monday

9:00AM - 8:00PM

Tuesday

9:00AM - 8:00PM

Wednesday

9:00AM - 8:00PM

Thursday

9:00AM - 8:00PM

Friday

9:00AM - 8:00PM

Saturday

9:00AM - 4:00PM

Sunday

Closed