Your family loves to stay busy. So, to stay in pace with all their soccer games, dance recitals, and other important events, a capable car is essential. With either the Ford Edge or the Nissan Rogue by your side, you'll face off against a hectic schedule with confidence.
However, if you want to take your commutes near East Stroudsburg, Stroudsburg, and Lehigh Valley to the next level, only one of these dynamic SUVs can deliver on your desires.
Luckily, we're here to help you determine which of these crossovers is best for you with this Edge vs. Rogue vehicle comparison created by the team at Ray Price Stroud Ford. Once you've scoped out the impressive specs, you'll be ready to set sail on yet another adventure through Nazareth and Easton.
Edge vs Rogue: Engine Performance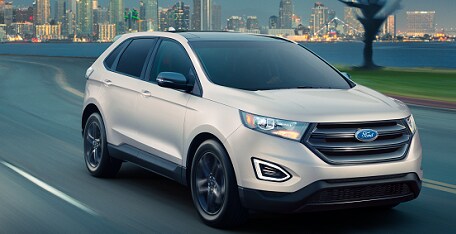 When your daily 9 to 5 is filled with a long list of responsibilities and events, you need to be teamed up with a ride that can surge forward at a moment's notice. That's why the Edge serves up a boost of potent power with its 2.0L EcoBoost® engine.
Once you've pressed the pedal to the metal, you'll careen along your route with 245 horsepower and 275 lb-ft of torque. 
By pairing all that force with the standard 6-speed automatic transmission, every move you make in this SUV will be complemented by effortless gear shifts.
That way, your unique driving habits will be mated with a hefty dose of strength, regardless of what the asphalt throws your way.
On the other hand, the Nissan Rogue kicks off with a 2.5L motor that produces 170 horsepower and 175 lb-ft of torque.
Unfortunately, this vehicle's muscle doesn't quite match the energy churned out by its Ford counterpart. Without the seamless shifts provided by its competitor's SelectShift® transmission, you may experience more lag when attempting to accelerate down the highway.
Ford Edge vs Nissan Rogue: Media & Technology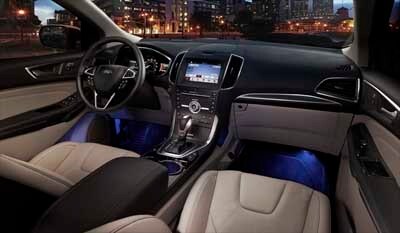 What's the key to an enjoyable drive? Plenty of entertainment options, of course! Inside the brainy cabin of the Edge, you'll easily connect to your favorite talk shows, music, and applications from the optional 8-inch SYNC® 3 touchscreen.
After you press your finger on the responsive display, you'll immediately connect to an array of convenience-boosting features, such as:
Apple CarPlay™
Android Auto™
HD Radio™
SiriusXM® and more
Alternatively, the Nissan Rogue adorns its cabin with a 7-inch touchscreen, which operates the infotainment system. Unlike the Ford Edge, however, this crossover doesn't provide you with innovative extras, like HD Radio™, which could make it more difficult to tune into your most beloved radio stations.
Ford Edge vs Nissan Rogue: Interior Dimensions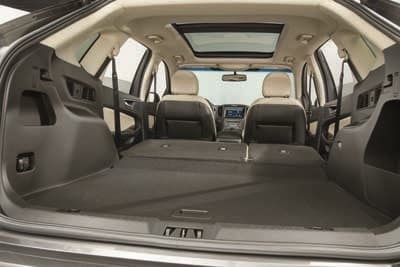 During those long drives to your family's vacation destination, you've got to be equipped with a car that's tailored to your needs. 
Thankfully, the Ford Edge focuses on keeping all your passengers comfy with 40.3 inches of rear headroom and 40.6 inches of rear legroom.
Plus, with the rear seats tucked into the floor, you'll take advantage of 73.4 cubic feet of cargo room. That way, you'll quickly load up your luggage and get going on your journey.
Although the Nissan Rogue outfits the cabin with some comforting amenities, the rear seats max out at 38.5 inches of headroom and 37.9 inches of legroom, which may leave your kids feeling a little cramped.
Furthermore, the storage space in this crossover tops off at 70 cubic feet in comparison to the larger trunk room included in the Ford Edge.
Ford Edge vs Nissan Rogue Vehicle Comparison: Verdict
A memorable family road trip near East Stroudsburg, Stroudsburg, and Lehigh Valley begins with a capable SUV. 
By arming your jaunt with the performance, technology, and comfort of the Ford Edge, nothing will stop you from reveling in your family's experience near Nazareth and Easton.
To explore more about what this souped-up crossover has to offer, feel free to stop by the showroom at Ray Price Stroud Ford or schedule your test drive today!