When you're setting out on the East Stroudsburg, Lehigh Valley, and Nazareth area roadways, you probably want to be sitting behind the wheel of a durable and reliable compact SUV. This class of car offers the driver-assist features you need for crowded city driving, while providing plenty of advanced handling features to help you take on mountainous terrain.
The team at Ray Price Stroud Ford wanted to find out which SUV has the most to offer Stroudsburg and Easton area drivers, so we looked at three popular models in our comparison of the 2018 Ford Escape vs. Mazda CX-5 vs. Honda CR-V.
Read more about the Ford Escape with our detailed vehicle review.
Ford Escape vs Mazda CX-5 vs Honda CR-V Engine Specs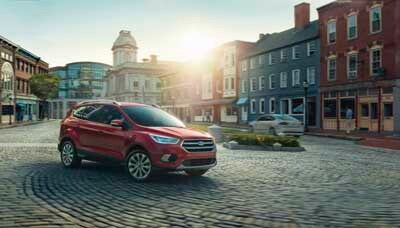 The Ford Escape, Mazda CX-5, and Honda CR-V all feature the smooth and efficient shifting of an automatic transmission, with the ability to take control of your shifting in a limited manual mode.
However, when we look at engine power, we see a bit of a divergence among the three vehicles. We wanted to consider how much output each of these SUVs is capable of producing, so we looked at the highest-level engines to compare.
The Honda CR-V brings an impressive power output of 190 horsepower with its 1.5L turbocharged engine that also produces 179 lb-ft of torque. The Mazda CX-5, on the other hand, came in ahead of the CR-V in terms of torque, generating 186 lb-ft of torque with its 187-horsepower SKYACTIV®-G 2.5L engine.
The Ford Escape, however, offers the highest output with its 2.0L EcoBoost® engine that delivers 245 horsepower and 275 lb-ft of torque, making it the SUV of choice for high-powered engine performance.
| | | | |
| --- | --- | --- | --- |
|   | Ford Escape: 2.0L EcoBoost | Mazda CX-5: 2.5L | Honda CR-V: 1.5L |
| Horsepower: | 245 Horsepower | 187 Horsepower | 190 Horsepower |
| Torque: | 275 lb-ft of Torque | 186 lb-ft of Torque | 179 lb-ft of Torque |
Handling Capabilities
When you get behind the wheel of an SUV in our area, you want to be sure that it has the grip strength to take on winter weather and winding mountain roads. Luckily, you'll find this in the Ford Escape, Mazda CX-5, and Honda CR-V.
All three make a smart all-wheel drive (AWD) system available that monitors your driving conditions and adjusts torque distribution among all four wheels to improve your traction when necessary. They also improve efficiency by backing off and cruising easy on the open highway.
If you're on a particularly winding stretch of road, you may find yourself a bit more secure in the Ford Escape, which also features Curve Control. This system recognizes when you're approaching a curve too quickly and automatically slows you down so that you can take it on safely. This is a Ford-exclusive feature that's not available in the Mazda CX-5 or Honda CR-V.
Driver-Assist Features in the Ford Escape, Mazda CX-5, and Honda CR-V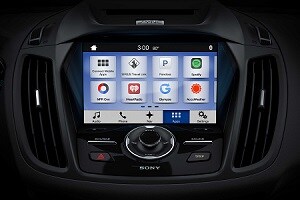 All three of these SUVs make some handy driver-assist features available to help you reach your destination a bit more safely.
For example, the Ford Escape, Mazda CX-5, and Honda CR-V all offer a blind spot monitoring system that lets you know when it's safe to merge by alerting you of drivers in your side blind spots.
When you reach your destination, however, the Ford Escape offers an extra feature with available Enhanced Active Park Assist. This system helps you locate an available parking space, and helps steer your way into it. Simply follow the prompts to shift, accelerate, and brake, and let the Escape take care of the steering.
Without this feature, drivers in the Mazda CX-5 and Honda CR-V may have a more difficult time parallel parking on a busy street.
2018 Escape vs CX-5 vs CR-V: Our Top Pick
After comparing the 2018 Ford Escape vs. Mazda CX-5 vs. Honda CR-V, our team found that the Ford Escape is better equipped for the Stroudsburg, Nazareth, and Lehigh Valley roadways. If you want to take this SUV for a spin, come to Ray Price Stroud Ford, near Stroudsburg and Easton, and we'll get you behind the wheel.