If you're looking to keep your 2017 Ford Explorer running in excellent shape, then the easiest way to do so is by understanding its Ford dashboard symbols. These helpful indicators will alert you the moment there's a problem in your SUV.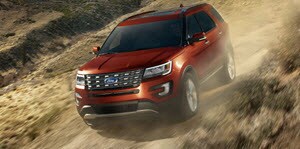 At Ray Price Stroud Ford, it's our job to help Stroudsburg, East Stroudsburg, Easton, Nazareth and Lehigh Valley drivers keep their Explorers running at peak performance. That's why we've put together this handy dashboard light guide.
Dashboard Light Meaning?
Some dashboard lights are just common knowledge. Turn signals, high beam indicators, even the charging system light (it does look like a battery, after all)-they're hard to mistake.
However, one of the best aspects about the 2017 Ford Explorer is its advanced features. When those are on the fritz, you may encounter some confusing lights. Those are what we intend to focus on here.
Adaptive Cruise Control (ACC)
The ACC light looks like a car hovering over a speedometer. It will change color to show the mode your system is in.
White Light: ACC is currently on. This light will turn off with the speed control system.
Green Light: This indicates that ACC is currently engaged.
Auto Start-Stop
This warning light appears as the letter "A" being circled by an arrow. It will only turn on when your engine is automatically shutting down due to the Auto Start-Stop feature.
Anti-Lock Braking System (ABS)
If there's a malfunction in this system, the letters "ABS" will light up inside of a circle. Your normal braking system should continue to function, but you'll want to contact your local Ford dealer for an inspection right away.
Brake System
This light typically appears as the word "BRAKE" (sometimes accompanied by the letter P or an exclamation point). This may indicate that you've left your parking brake on. If not, fluids could be low, or a more serious error may have occurred. Call for service as soon as possible.
Blind Spot Monitor
This will illuminate when the Blind Spot Monitor is turned off. It appears as one car in front of another with the word "OFF."
Electric Park Brake
When there's a malfunction in your electric parking brake, this indicator will turn on. It looks like a downward zig-zagging arrow inside of a circle.
Engine Coolant Temperature
If your engine coolant is high, you should immediately pull over and turn off the engine so it can cool. You'll know when this light-a thermometer submerged in fluids-shows up on your dash.
Engine Oil
Quite simply, this light looks like an oil can. If it turns on while you're driving, either there's been an engine malfunction or your oil is low. Pull over to check your oil level at the next opportunity.
Heads Up Display
The Heads Up Display light looks like a horizontal bar with several small lines surrounding it. It appears when you're using ACC or the available collision warning system, just as a check.
Lane Keeping Aid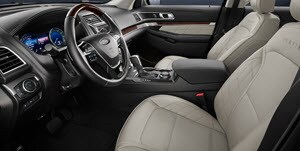 This light looks like a car driving within two dotted lines. It indicates that the lane keeping system has been activated.
Low Tire Pressure Warning
When this light appears, the pressure in one or more of your tires is low, and will need to be filled as soon as possible. It looks like an exclamation point within brackets.
Powertrain Fault
This indicator appears as a wrench and signals a fault in either the powertrain or the all-wheel drive system. Contact your dealer to take a look right away.
Service Engine Soon
This one is easy to spot as it looks just like an engine. When your onboard diagnostics system senses an error somewhere in the engine, it will blink if the engine is misfiring completely. When you see this, immediate service is required.
Stability Control
This light looks like a car driving a curvy path. It should light with ignition. If not, there's likely a malfunction. It will always turn on when the function is engaged.
Don't Ignore Your Dashboard Icon Meanings
While Ford dashboard symbols may sometimes be a helpful reminder of what features are and aren't engaged, they often signify major problems. Failing to pay attention to them can cause irreparable damage to your car.
Fortunately, Stroudsburg, East Stroudsburg, Easton, Nazareth and Lehigh Valley drivers can always come to Ray Price Stroud Ford for quick, reliable service. Contact us today, and we'll take care of your 2017 Ford Explorer as soon as possible!