When you're the proud owner of a Ford Explorer, you'll want to do everything in your power to keep it in great shape and performing at its best while you're navigating the scenic roads of Stroudsburg, Lehigh Valley, Nazareth, and East Stroudsburg. 
One of the most effective ways of keeping your SUV in great shape is by following the Ford Explorer maintenance schedule closely. 
At Ray Price Stroud Ford, we're here to help you learn more about the steps that you need to take to get the most out of your vehicle!
Understanding Your Ford Explorer Maintenance Schedule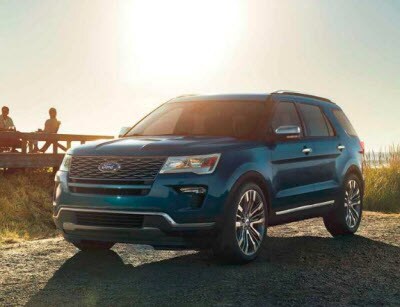 You don't need any technical training or a background in mechanical engineering to understand your maintenance schedule. It's pretty simple to follow, so we'll break it down for you. 
Below, you'll notice a list of mileages that correspond with a few services. These are your service intervals, so you'll want to keep track of your miles to know when you're due for service and what you can expect during that visit. 
Remember, most of these services get repeated, so you'll want to keep track of your regular services in order to stay on top of your vehicle's well-being.
Ford Maintenance Schedule Services & Inspections
10,000 Miles
During your first visit, you'll have one of the most important services completed: the oil change. Along with this routine service, you'll also have your tires rotated, as well as have an inspection of a variety of systems and components, including: 
Cooling system and hoses
Exhaust system
Transmission fluid
Brake system (pads, hoses, lines…)
Steering and suspension components
20,000 Miles
At this particular interval, you'll need to have everything listed above repeated, but with this specific visit, you add a cabin air filter replacement to the list and you'll need to repeat this replacement at 40,000 miles.
30,000 Miles
Like the previous service interval, this visit requires some repeated services but adds an engine air filter replacement, which gets repeated at 60,000 miles.
50,000 Miles
This interval features a lot of repeated services; however, it adds a very important service to the list: a brake fluid replacement.
100,000 Miles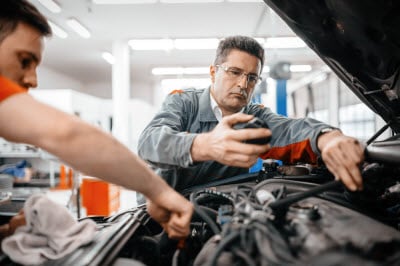 There's 50,000 miles of repeated services until you reach 100,000 miles, which adds some pretty significant services to your Vehicle History Report. 
This visit will result in a platinum spark plug replacement, changing your orange coolant, and an inspection of your accessory drive belt(s).
150,000 Miles
If you've made it to 150,000 miles, congrats! You've taken great care of your Ford Explorer. At this particular interval, you'll pretty much need every service previously listed. 
However, during this interval, you'll have some new services to add. During this visit, you'll need to change your automatic transmission fluid and your orange coolant. Your accessory drive belt(s) needs to be replaced if you haven't yet had that done.
Servicing Your Ford Explorer at Ray Price Stroud Ford
Now that you're aware of what your Ford Explorer maintenance schedule consists of, you're familiar with the variety of services and inspections that it needs over the years. When you notice that you're approaching one of your service intervals, you can always schedule your service with us at Ray Price Stroud Ford. 
We can help you get the most out of your Explorer and keep it performing for the years to come.
At Ray Price Stroud Ford, we're happy to help drivers in Stroudsburg, Lehigh Valley, Nazareth, and East Stroudsburg get the most out of their vehicle!