With so many makes, models, and types of cars today, it's hard to figure out which vehicle is right for you. Luckily, the team at Ray Price Stroud Ford compiled this trim level breakdown of the appealing Ford Explorer for our well-loved customers!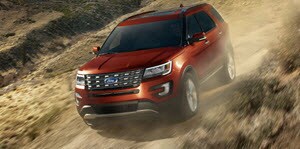 Those living in the Stroudsburg, East Stroudsburg, Easton, Nazareth and Lehigh Valley areas can check out the different Ford Explorer trim levels at Ray Price Stroud Ford. The Ford Explorer comes in five different trim levels, including the base level, the XLT, the Limited, the Sport, and the Platinum Level.
Ford Explorer Trim Levels: Fuel Economy
The Ford Explorer trim levels affect the overall fuel economy since different trims can feature varied engines and performance systems. The Limited trim level gets the best gas mileage at 19/27 MPG city/highway. Both the base and XLT trim levels get 17/24 MPG city/highway on the, while the Sport and Platinum trims deliver 16/22 MPG city/highway.
It may be worthwhile to look into the Limited trim if fuel economy is your top concern.
Starting Price for the Ford Explorer
As the trim level goes up, so does the price since high trims include more advanced technology and features. The base model of the 2017 Ford Explorer starts at about $31,660 MSRP. The XLT model starts at $33,775, and the Limited edition starts at $41,675. Opt for the Sport model and prices start at $45,355, and the Platinum model starts at $53,235.
Interior Features of the Ford Explorer
The base trim level includes cloth seating with second-row 60/40 split-fold-flat bench seats and third-row 50/50 split-fold bench seats. At the Limited level, the first row of seats is climate controlled; the first two rows are leather-trimmed; and there are dual cup holders in the second-row armrests. The Platinum level has leather seats.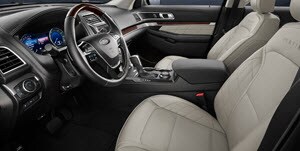 Starting with the limited level, features include dual-zone electronic automatic temperature control, 12 speakers instead of six, and a voice-activated navigation system. The vehicle will also have remote start, a universal garage door opener, and Intelligent Access with A Push-Button Start.
Go up to the Platinum level and you get Adaptive Cruise Control and Collision Warning, the Blind Spot Information System, Enhanced Active Parking Assistance, And Lane Departure Warning.
Test Drive the Ford Explorer Today!
Going with a higher trim level gives people more options for the color of the door handles, grille, mirrors, roof rack, and much more!
Feel free to come in and test drive a 2017 Ford Explorer at Ray Price Stroud Ford if you live near the Stroudsburg, East Stroudsburg, Easton, Nazareth and Lehigh Valley areas. This will give you a better idea of how the car handles and whether the model is right for you and which trim level suits you best. Schedule a test drive today!