The EPA-estimated Ford F-150 miles per gallon ratings range from 15-22 MPG city and 18-30 MPG highway. There are several factors that go into what part of that range you fall on, like engine specs, curb weight, and technology features.
To help our customers in the East Stroudsburg, Lehigh Valley, and Nazareth areas know how to get the most out of their Ford F-150 MPG capabilities, the team at Ray Price Stroud Ford created this exploration of all the different factors at play during your drives around Stroudsburg and Easton.
Learn more by reading our detailed Ford F-150 Reviews
Ford F-150 MPG: Engine Specs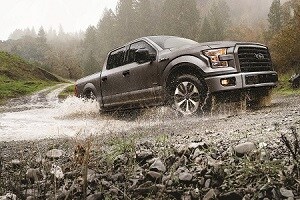 The Ford F-150 is a highly customizable truck in terms of powertrain options. It makes five different engines available, each giving the Ford F-150 different miles per gallon capabilities. If you want to maximize your efficiency, we recommend choosing the 3.0L Power Stroke® turbo diesel engine that puts out 250 horsepower and 440 lb-ft of torque.
Despite its high-power output, this engine gives you the highest fuel economy ratings at an EPA-estimated 22 MPG city and 30 MPG highway. It manages this with a high-pressure common-rail fuel-injection system that injects fuel directly into the cylinder at 29,000 pounds-per-square-inch for improved efficiency.
This engine is available on the Lariat, King Ranch, and Platinum trims. If you prefer to drive the XL or XLT trim, the 2.7L EcoBoost® V6 is your best option for optimized efficiency. This engine delivers 325 horsepower and 400 lb-ft of torque while achieving an EPA-estimated fuel economy of 20 MPG city and 25 MPG highway.
F-150 Transmission and Engine Technology
Both engines mentioned above are helped along in achieving their impressive miles per gallon numbers by a 10-speed SelectShift® automatic transmission. This transmission features a wide-ratio span and optimized gear spacing for maximum efficiency and optimized performance.
It also includes three overdrive gears that improve efficiency by letting your engine take a break when cruising at high speeds, so that it's not working harder than it has to during normal driving conditions. With Tow/Haul mode, you can prep your transmission for pulling heavy weights and prevent "hunting" for gears by adjusting the shift schedule to accommodate a trailer.
For added efficiency, all engines also include Auto Start-Stop Technology, which prevents fuel waste while idling by powering down the engine during extended stops at red lights or in traffic. It powers back up again when you hit the accelerator.
Ford F-150 Miles Per Gallon and Curb Weight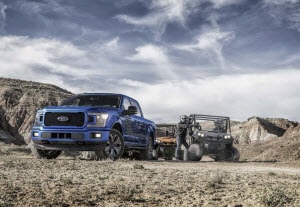 The body construction also plays a big part in keeping the Ford F-150 miles per gallon estimates so high. This truck is made of a high-strength military-grade aluminum-alloy that's highly resistant to dings while reducing this truck's curb weight by up to 700 pounds over previous generations.
This lower curb weight has three benefits:
Improved payload capabilities
Higher towing capacities
Enhanced fuel efficiency
Having a lighter body means that the Ford F-150 doesn't need to work as hard to get moving, resulting in higher miles per gallon numbers.
Talk to Us about Ford F-150 Miles Per Gallon
If you want to learn more about the Ford F-150 miles per gallon capabilities and how to get the most out of your drives around the Stroudsburg, Easton, and Lehigh Valley areas, come to Ray Price Stroud Ford near East Stroudsburg and Nazareth.
We'll walk you through this truck's fuel-efficient qualities, help you choose the right engine for your needs, and get you out for a test drive.