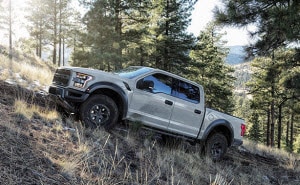 If you're considering a truck as formidable as the Ford F-150 for your next vehicle, then you may soon need to haul some cargo. But even with a robust engine under the hood, this job can be difficult without the right technology to complement it.
Luckily, the F-150 isn't all brawn. It has plenty of brain, too, in the form of cutting-edge technologies. In this review, our team at Ray Price Stroud Ford will examine all the performance, safety, and interior tech most important to our customers in the Stroudsburg, East Stroudsburg, Easton, Nazareth and Lehigh Valley area. 
Performance Made Easy
A bigger truck is certainly going to come with a bigger engine, which means you'll reach higher speeds and a higher towing capacity. In order to safely keep control over all that extra weight and torque, you'll need plenty of stabilizing technologies.
First and foremost, drivers can make use of AdvanceTrac® with roll stability control. This feature, when paired with trailer sway control, can ensure that your tow doesn't throw your truck dangerously off balance.
Whether you're hauling or not, rounding a sharp corner can be a fairly dangerous maneuver, particularly if that turn comes more suddenly than you expected. Fortunately, the Ford F-150 has curve control to compensate. This way, you can always stay on course. 
Intuitive Safety Features
Staying safe is much easier when your car can do some of the thinking for you. For instance, it can sometimes be hard to keep track of tire pressure levels. Luckily, your F-150 includes a tire pressure monitoring system (TPMS). When the pressure in one or more of your tires has fallen below recommended levels, you truck will immediately send you an alert.
Like all Ford vehicles, the F-150 contains an advanced airbag system with a patented Safety Canopy®. This canopy will cocoon you protectively in the event of a collision, at which time the SOS post-crash alert system will engage.
See how the Ford F-150 stacks up against the competition in this truck comparison!
The purpose of SOS is to make your vehicles easier to locate and enter after a collision has occurred. As soon as the airbags are deployed, the car will begin flashing lights and repeatedly sound the horn. With this, first responders should have no problem finding you. 
Interior Technologies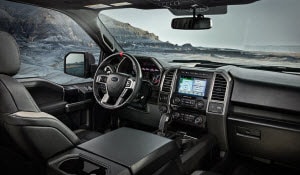 While safety and performance technologies are incredibly important, sometimes drivers just want a bit of entertainment. Luckily, the F-150 has plenty of neat gadgets, like its premier entertainment suite, SYNC® 3.
SYNC®3 is an all-in-one entertainment package. First and foremost, it makes smartphone integration easy. Connect your mobile device either wirelessly or using USB or the auxiliary input. Once connected, you can make hands-free calls, stream your music, or access your apps on the LCD touchscreen.
This system also includes navigation and TravelLink®. From here you can get directions for your trip as well as live travel updates. No matter where you're heading, you can stay ahead of traffic. 
Learn More About the Ford F-150
In terms of technology, there are few trucks that can match the capabilities of the Ford F-150. Whether you're looking for entertainment, intuitive safety features, or performance enhancements, you can find a little bit of each in this cutting-edge truck.
In addition to technology, the Ford F-150 has many more excellent features. Drivers in the Stroudsburg, East Stroudsburg, Easton, Nazareth and Lehigh Valley area who would like to learn more can contact Ray Price Stroud Ford. Contact us today to learn of everything the F-150 has to offer!