At Ray Price Stroud Ford, we take pride in our ability to provide drivers near East Stroudsburg, Stroudsburg, and Lehigh Valley with lots of insight on how to keep their car healthy.
When it comes to your brakes, it's essential to make sure that you're seeking out all the professional care they need to work at their best.
So, if you've found yourself wondering, how long do brake pads last? we're here to answer that question with a few basic tips. Once you've scoped out the information in this guide, you'll be traversing the roads of Nazareth and Easton as a brake maintenance maven.
When to Replace Your Brake Pads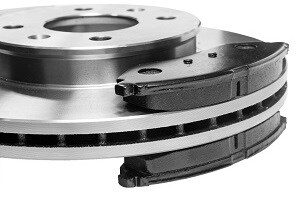 In most cases, brake pads last for about 50,000 miles or so. However, the frequency at which you'll need a replacement largely depends upon your driving conditions, environment, and several other factors.
For example, if you happen to routinely traverse bustling city streets, you're likely using your brakes more often due to stop-and-go-traffic. Over time, these conditions can wear down your brake pads more quickly than other types of driving scenarios, which could require you to schedule maintenance for your brakes more regularly.
In addition to that, the recommended maintenance for your automobile's brake pads can vary based on your manufacturer and model.
So, before you reserve your next visit to a trustworthy mechanic, check your owner's manual. That way, you'll know if you're up-to-date on the repairs and replacements that'll keep your car performing like a champion.
Symptoms of Brake Pad Wear
To better determine when it's time for you to replace your brake pads, watch out for these warning signs…
Screeching Sounds: Conveniently, most automobiles are equipped with brakes that contain metal wear indicators. When your brakes pads are ready for a replacement, you may hear a screeching sound, which is simply a reminder that the padding has worn down enough to expose the wear indicator, thereby causing it to scratch against the brake disc. Once you notice this squealing sound, you'll want to schedule an appointment as soon as possible to avoid any potential damage to your car's braking system.
Worn-Down Brake Pad: While this may sound obvious, visually inspecting the condition of your brake pads is one of the best ways to decide when to head to a service center for a replacement. All you have to do is look through the spokes on your wheel and identify the brake pad, which is pressed against the rotor. If you can estimate that the pads are any less than ¼ inch in thickness, call your technician!
Dashboard Lights: Some automobiles outfit the dashboard with a handy brake pad light that signals you to schedule a maintenance appointment. If you're not sure whether your vehicle contains this warning, check your owner's manual or ask one of the professionals at your service facility. Either resource can tell you which lights are provided on your dashboard.
Schedule Your Service Appointment Today!
No matter where the roads of East Stroudsburg, Stroudsburg, and Lehigh Valley take you, it's important to care for your vehicle by suiting it up with the maintenance it needs. If you can't remember the last time you received a brake pad replacement, think about visiting a knowledgeable service specialist.
Luckily, the state-of-the-art service center at Ray Price Stroud Ford is armed with the know-how and tools to perform any service for drivers near Nazareth and Easton. Feel free to give us a call, schedule your appointment, or stop by for a visit today!