Because brakes are one of the most important components of your vehicle, they need to be in great shape so they can function properly and get you to stop your vehicle. As a driver, it's your responsibility to make sure that the brakes are properly functioning. The best way to stay on top of your brakes and their condition is by having them checked and serviced regularly from a trusted Service Center. These brake services include brake pad replacements, rotor replacements and repair, and of course, brake fluid replacement.
In this guide, we're going to answer important questions involving your brake fluid. We'll even tell you how to check your brake fluid yourself so you can know when to get service.
What Does Brake Fluid Do?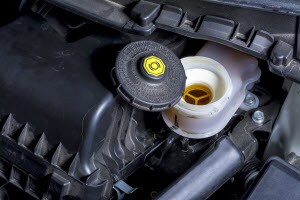 Your brake fluid is a vital component to your vehicle's braking system. When you press on the brake pedal, it's sending your fluid to each of your wheel's brakes in order to get them to slow down or stop. For brake fluid to function properly, it should always be clean and at the appropriate level. It should also be of the right quality that your vehicle requires. You can actually check your owner's manual to see the type of brake fluid that your vehicle needs.
How Often Should I Check My Brake Fluid?
In order to make sure that your brakes are functioning properly, it's recommended that you have them checked by a professional technician every 6 months. However, you don't need to schedule a service appointment to check the fluid level because you can do that yourself. You should make a point to check your brake fluid every three months. It can help you stay ahead of service, and it will even tell you when to schedule brake service.
How Do I Check My Brake Fluid?
Brake fluid is a simple component that's easy to check. It's just like checking the other fluids in your vehicle. The first step is popping the hood open and looking for the brake reservoir. Often, it will say BRAKE on its casing, but if you're unable to find it, refer to your owner's manual.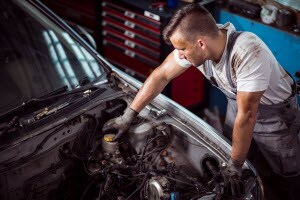 Make sure that you clean the top of the brake reservoir with a rag or cloth before you open the case. It's a preventative measure for any debris or dust getting into the reservoir, which can actually affect your brakes and their function. Carefully open your brake reservoir (you may need a screwdriver) and check the fluid level. It should be an inch away from the top of the reservoir cap.
While the reservoir is open, you'll want to check the quality and color of your brake fluid. If your brake fluid is dark or dirty, you may want to schedule brake service. You should also know that when checking your brake fluid, you should be quick about it and not take longer than 15 minutes because the moisture in the air can affect the brake fluid. Once you've checked your brake fluid, close the reservoir and dispose of the cleaning rag by taking it to a toxic waste center.
Schedule Your Brake Service Appointment
After you've inspected your brake fluid and noticed that it was either low or dirty, you'll want to schedule a brake service appointment at Ray Price Stroud Ford near Stroudsburg, East Stroudsburg, Easton, Nazareth and Lehigh Valley, PA. The service department at Ray Price Stroud Ford takes brake service serious and they'll make sure that your vehicle gets the necessary service and fluid to leave with a smooth and reliable performance. It's always important to make sure that your brakes are serviced periodically so you can enjoy a smooth performance that you'll be able to stop when you need to.
Schedule your brake service appointment today at Ray Price Stroud Ford so we can help your vehicle perform smoothly.