You may already know that changing your car's oil is one of the simplest ways to keep up with maintenance. However, did you know that you have more than one option when it comes to deciding on which oil is best for your engine?
To help you decide whether synthetic or conventional oil is the better choice for your car, our team at Ray Price Stroud Ford has put together this comparison, making your drives around Stroudsburg, East Stroudsburg, Easton, Nazareth and Lehigh Valley that much easier!
What is the Difference between Synthetic and Conventional Oil?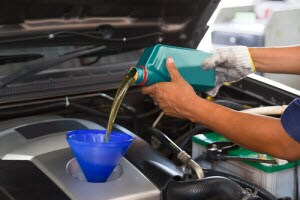 Synthetic and conventional oils have a few big differences. While conventional oil is usually more common, synthetic can sometimes be the better option for the following reasons:
Needs less frequent changing. Choosing synthetic oil over conventional means you won't have to change your oil as often-synthetic oil only needs to be changed about once a year, or every 15,000 miles in some cases.
Less deposits. While conventional oil tends to leave deposits on the engine surface, synthetic oil is less likely to leave as much residue behind, if any at all.
Added lubricants. Additional lubricants in synthetic oil help prevent engine parts from rubbing together.
Maintains consistency. Conventional oil tends to thin out when temperatures rise, while synthetic oil maintains its thickness in any weather.
Is Synthetic Oil Better than Conventional?
Although some models require synthetic oil, you should check out your owner's manual to get the most accurate answer as to what your vehicle needs. While synthetic oil can be more expensive than conventional oil, it lasts longer, which some may consider a bigger savings in the long run.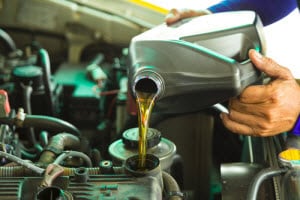 Another option is to make the switch as your car gets older. By changing the oil up, you'll keep the engine intact for longer, especially since the synthetic oil leaves less, if any, deposits behind.
Switching to synthetic oil is also dependent on what you use your vehicle for the most. For example, if you tend to drive long distances often, or carry extra weight around, you might want to consider using synthetic oil; however, if you're simply commuting back and forth to work at a short distance, conventional oil is completely fine for your vehicle.
Is it Worth it to Get Synthetic Oil?
While we've listed the benefits of switching to synthetic oil, we're still not against putting conventional oil in your vehicle. If conventional oil seems to be working for your vehicle and driving habits, stick to your regular oil changes every few months and cruise on!
It really comes down to your vehicle's age, make, model, and use. However, the ultimate deciding factor should come from your owner's manual, or your trusted auto technician and service center.
If you are in the areas of Stroudsburg, East Stroudsburg, Easton, Nazareth and Lehigh Valley, and have more questions about synthetic vs. conventional oil, feel free to contact our service center at Ray Price Stroud Ford. We'll help you to figure out which oil option is better for your vehicle, and answer any other maintenance questions you might have.