There are many different components in your vehicle, but the battery is one of the most important. It starts your car, powers the headlights, and makes sure the radio works when you're traveling through Stroudsburg, East Stroudsburg, Easton, Nazareth and Lehigh Valley.
If you want your Ford to operate well for as long as possible, you need to make sure your battery is well-taken care of. To help you do just that, Ray Price Stroud Ford is here with a few tips to ensure a long-lasting car battery.
Turn Your Headlights Off
One of the biggest causes of a dead or faulty battery is leaving the lights on when you turn off the engine. So, as soon as you put the car in park, turn your headlights off and double check the knob to make sure it's in the right position before you step out of your vehicle.
You also want to close the car doors completely every time you get out. If you have the interior lights set to activate when your doors are open, they will stay on until the doors are entirely closed. This will ultimately lead to a drained battery.
Keep Electronics Off When Idling
Keeping the radio on or charging your phone when you're sitting in your car outside may make things easier and more entertaining, but they can also suck quick a bit of power from your battery. With that said, you want to keep all electronics off when your engine is off.
However, if you absolutely need to listen to the radio use any other electronic device in your car, don't leave them on for too long and turn on your engine every so often, if possible. This will help conserve more power and reduce the risk of complete battery drainage.
Clean the Terminals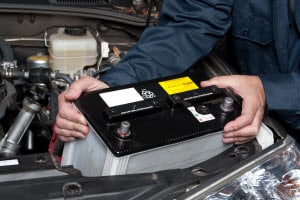 Over time, the battery in your Ford will get dirty and start to corrode. When corrosion builds up around the terminals, it limits the flow of power which leads to decreased battery performance and difficulty operating electronic devices and features.
The easiest and most beneficial way to prevent this is to check the terminals. If there are any signs corrosion buildup, use a brush to clean them off or contact a professional service center for assistance.
Service the Battery Regularly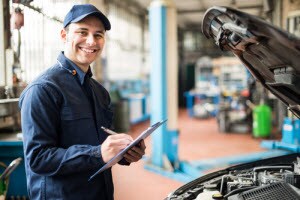 Like all automotive components under the hood of your Ford, routine maintenance is key to ensuring a long-lasting battery. So, make sure you schedule service for it as needed. Consult your owner's manual to find out when it needs professional attention, or keep an eye out for the following warning signs.
Engine is slow or fails to turn over
Active check engine or battery warning light
Leaking fluid around the positive and negative connection posts
Swollen battery case
Give Your Battery the Care It Needs
The battery is an essential part of your vehicle. If you want it to last for years to come, follow the tips above. More importantly, make sure it gets routine services from a dependable service center.
If your battery is due for service or if you notice the warning signs listed while you're driving around Stroudsburg, East Stroudsburg, Easton, Nazareth and Lehigh Valley, get in touch with Ray Price Stroud Ford and schedule a service appointment now.