When to get your transmission flushed is highly varied, but as a general rule, newer Ford vehicles should never go more than 150,000 miles between transmission flushes. However, it's a good idea to have the mechanic check your transmission fluid with every oil change, which should be done approximately every 7,500 to 10,000 miles.
If you're having your transmission fluid checked every time you take your car to your Stroudsburg, Lehigh Valley, or Easton area service center, you should be in good shape. Still, there are signs to look out for during your drives around East Stroudsburg and Nazareth that indicate you're due for a flush.
Check out this guide from Ray Price Stroud Ford on when to get your transmission flushed to learn these signs and more.
How to Know When to Get Your Transmission Flushed
While it's best to stay vigilant about following your car's recommended maintenance menu as indicated by your owner's manual or local Ford technician, your car will provide you with several signs that you're overdue for a transmission flush if you fall behind. These signs include:
Grinding noises from your transmission
Gear slipping
Surging or jerky movements
Delayed movement
Shifting problems
If you notice any of these signs, have your car seen by a certified technician as soon as possible to prevent irreparable powertrain damage.
How to Check Transmission Fluid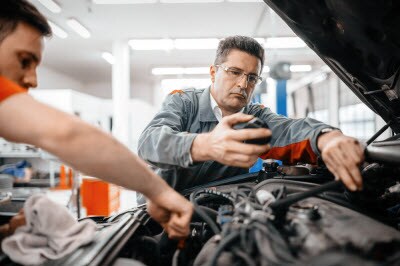 Another way to know that you're due for a transmission flush is to open the hood and take a look at the fluid for yourself. Keep in mind that most newer vehicles won't have a transmission fluid dipstick and will require a trained mechanic to check the fluid by getting under the car.
If you have an older model, it's still best to have a trained mechanic perform this, but you can also check out your transmission fluid by following a few steps:
Park your car on a level surface and run the engine to get the fluids flowing.
With the engine still running (unless your owner's manual says otherwise), pop open the hood and locate the transmission fluid dipstick.
Remove the dipstick, wipe it clean with a rag, re-insert, and remove it again.
Check the markings on your dipstick. If your transmission fluid doesn't reach the "Full" line, your oil may be moving slowly due to debris and should be flushed by a certified technician.
Note what your fluid looks like, reinsert the dipstick, and close the hood.
Clean transmission fluid is almost clear with a pinkish tint. If your transmission fluid looks red, brown, burnt, or dirty, make an appointment with your local Ford dealership to have your transmission flushed.
Get Your Transmission Flushed Today
Flushing your transmission means emptying out all the old fluid and adding fresh, new fluid. This is the best way to ensure that the transmission fluid in your car is doing its job of keeping your gears lubricated and protected from overheating.
When it's time to get your transmission flushed in the Stroudsburg, Lehigh Valley, or Easton areas, come see the team of factory-certified technicians at Ray Price Stroud Ford, near East Stroudsburg and Nazareth.
Contact us to make a service appointment today!