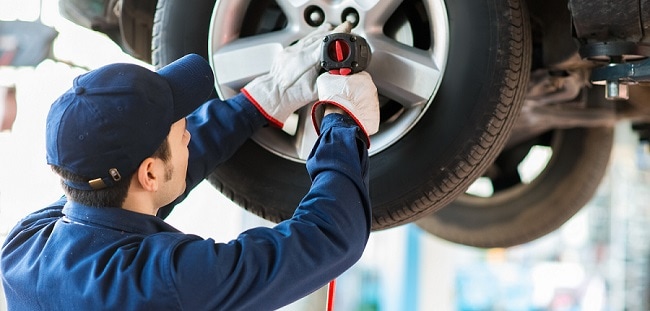 Have you noticed seemingly more bumps in the road while driving around Stroudsburg, East Stroudsburg, Easton, Nazareth and Lehigh Valley? If your car is noticeably shaking, chances are there's an underlying problem with one of its systems that needs attention.
To help you look into what may be causing your car to wobble, tremble, or vibrate, the professional car care team at Ray Price Stroud Ford decided to share their knowledge on the subject. "Why is my car shaking?" It could be…
Worn Brake Rotors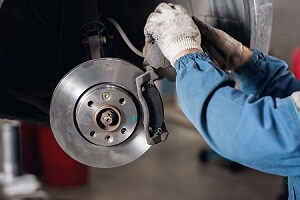 If your car's steering wheel or brake pedal are the ones doing the shaking, it could be due to an issue with your brakes' rotors. Brake rotors are the large steel discs that spin alongside each of your wheels. Often when your brake pads (the softer piece that pushes up against the rotor to stop the vehicle) wear down to their minimum thickness, rotors can become warped and damaged, causing the pedal or wheel to shake.
Rotors may not need to be replaced for as many as 50,000 miles; however, this number often depends on how diligent you are with replacing your brake pads.
Tire Problems
A shaking car, specifically one that exclusively vibrates at higher speeds (around 60 MPH) can be due to tire troubles. Car vibrations caused by your tires could point to a balance issue-a weight could have fallen off from a previous time your tires were balanced. Or, your car could be shaking because one or more tires have lost much of their traction due to uneven wear.
To combat these issues in the future, make sure you never miss a tire rotation and balance, a crucial service that should be performed each time you bring your car in for an oil change.
Not Seeing Axle to Axle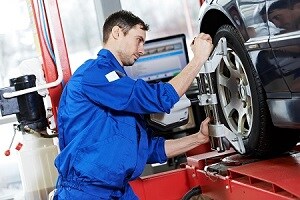 Most cars operate on two axles. The front axle connects the front wheels and the rear axle connects the back wheels. If either axle becomes dented or damaged as a result of a collision, off-roading, or another instance of heavy wear, vibrations may be felt throughout the vehicle.
Shaking caused by a damaged axle often becomes more noticeable at speed. With regular inspection, road tests, and recommended parts replacements, the elements of your suspension and vehicle platform should stay free of axle issues.
Shaking Car: Schedule Service Today
There are several reasons why your car may be shaking. We hope this post helped you zero in on the type you're experiencing so you can get closer to pinpointing the problem and getting it fixed ASAP!
Luckily, if you're seeking service for a shaking car (no matter the reason it's shaking), the expert service technicians at Ray Price Stroud Ford can be of assistance. These highly trained individuals are car systems pros. They'll evaluate your vehicle and quickly come to a diagnosis for restoring your car's safety and performance.
Sign up for a service appointment today from the comfort of your own home. We're happy to serve drivers in Stroudsburg, East Stroudsburg, Easton, Nazareth and Lehigh Valley, PA, with standout vehicle service!