With the
2021 Ford Bronco
now available to those around East Stroudsburg, Stroudsburg, Lehigh Valley, Nazareth, and Easton, it's important to know exactly what this SUV is all about.
Off-roading prowess is at the forefront of this exciting model. Thanks to different body styles and various engine options, the Bronco is highly customizable, too. Our 2021 Ford Bronco review is the easiest way for you to get a firm grasp on the SUV's traits.
If you just can't wait to get behind the wheel for yourself, reach out to our accommodating staff of Ray Price Stroud Ford to schedule a test drive!
Ford Bronco Reviews:
---
2-Door or 4-Door Bronco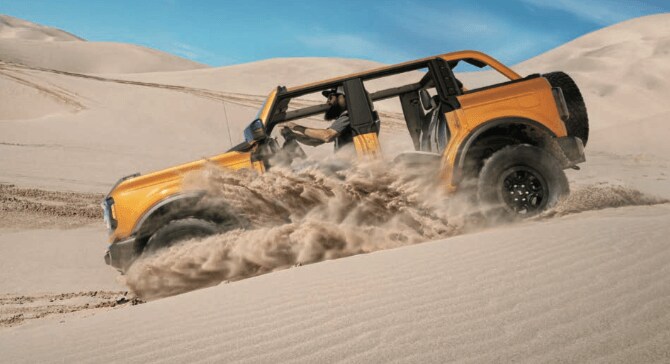 As you learn about the 2021 Ford Bronco, you're going to be presented with a lot of choices. Customizing the model to your preferences and your specific lifestyle is all part of the fun!
The Bronco can be had in either a 2-door or 4-door guise. The 4-door arrangement comes standard with a soft top, although you can choose a modular hardtop or dual tops. 4-door versions also feature a class-exclusive hardtop middle panel.
Frameless doors in the 4-door setup can easily be removed and stored on board while you're adventuring. No matter the configuration you choose, this SUV is going to simplify the task of removing doors and even the roof!
---
Seemingly Endless Off-Road Features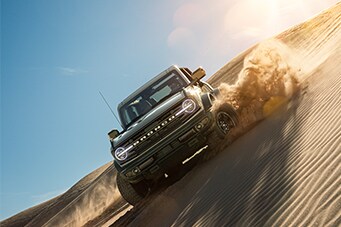 Eager to travel over sand dunes or through an overgrown forest, the 2021 Ford Bronco is itching for adventure. To help you overcome any off-roading obstacle, the model has exceptional features and a unique body style conducive to exploration.
A few key measurements of the Bronco include a 37.2° departure angle, a 29° breakover angle, and a 43.2° approach angle. If you're faced with a river, you can comfortably wade through water as deep as 33.5 inches. Finally, the ground clearance is 11.6 inches, creating a large margin for error as you scale rocky slopes.
For technology, the standout pairing is the Terrain Management System™ with G.O.A.T Modes. Essentially, you can choose between various driving modes to better handle the terrain you're moving across. There are as many as eight driving modes offered, including Sand, Slippery, Sport, Eco, Normal, Mud/Ruts, Rock Crawl, and Baja!
---
Enjoy Your 2021 Ford Bronco with a 4-Cylinder or 6-Cylinder Motor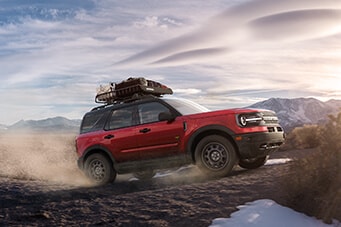 Each deliver sturdy power yet choosing between the 4-cylinder or 6-cylinder motor for your 2021 Ford Bronco is going to be a key decision.
The 4-cylinder motor is the standard option and churns out 270 horsepower and 310 lb-ft of torque. Bumping up to the 6-cylinder results in 310 horsepower and 400 lb-ft of torque.
Also exciting is the chance to select between a 10-speed automatic transmission or a 7-speed manual transmission!
---
Build Your Own 2021 Ford Bronco
Our review of the 2021 Ford Bronco only begins to scratch the surface of how customizable this SUV really is. A host of trim levels and other options means you can drive the exact Bronco you want around East Stroudsburg, Stroudsburg, Lehigh Valley, Nazareth, and Easton.
To learn more about the model or arrange for your own test drive, reach out to Ray Price Stroud Ford!
---