The Ford F-150 lease deals offered near Nazareth, PA, by Ray Price Stroud Ford make it easy for any truck-lover to snag this hulking, capable model. Whether you need a little extra oomph for on-the-job work or perhaps want ample towing and payload capabilities to finish that weekend project, you'll find the Ford F-150 is more than capable.
Leasing is a benefit, too. The entire process provides appreciated versatility and the chance to upgrade models every few years. To learn more about leasing, our lease deals, and more about the overall Ford F-150 truck, continue reading!
What to Know About Ford Leasing
The Ford leasing process appeals to all types of drivers, whether you're a city commuter, highway-cruising speedster, or the family carpooler. 
When you lease a Ford vehicle, such as the Ford F-150, you'll essentially be renting the model from the dealership for a specific amount of time, usually a few years. If you want to swap the model out before that time ends and lease a new vehicle, that's an option.
If you complete the entire lease, you'll then return the vehicle to the dealership and can begin leasing an updated Ford F-150 or another model entirely.
The reason leasing has become such a favored choice is because drivers can continually upgrade to the latest models, giving them a chance to experience cutting-edge technology, performance, style, safety, and more.
About the Ford F-150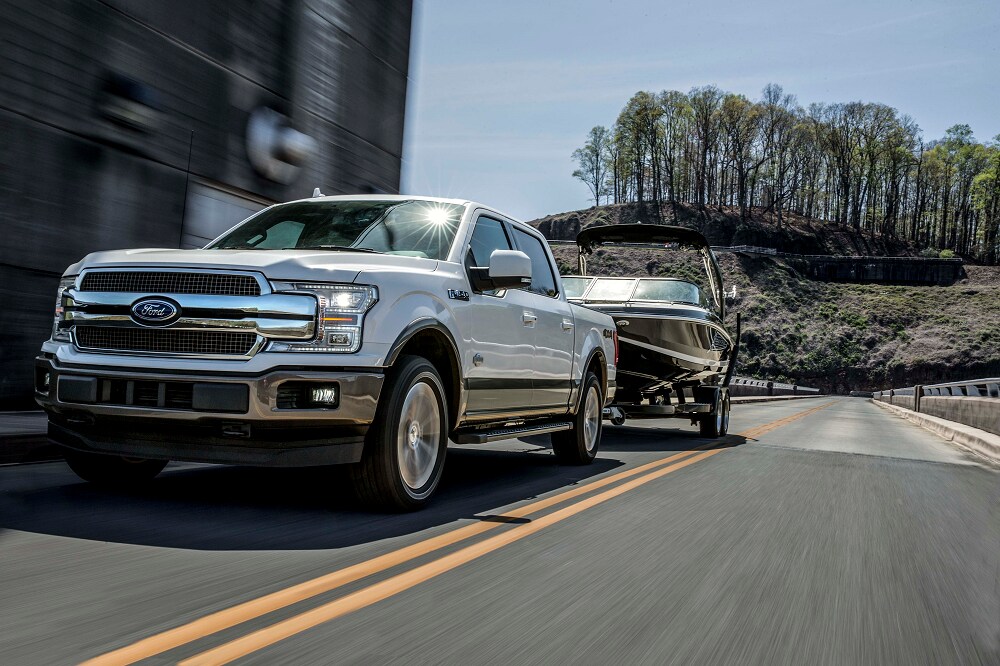 If you've been driving trucks for many years or have simply heard of the Ford brand, you're probably aware of the Ford F-150. After all, this truck has been an American staple for generations.
The brutish power of the Ford F-150 gives it the ability to handle jobs of any size. Along with providing jaw-dropping amounts of torque, payload, towing, and horsepower, you'll also find the exterior to be lined with convenient features that make your day-to-day grind a little easier.
The appeal extends beyond performance, however. The interior, for example, is equipped with the latest infotainment technology, allowing you to pull up navigation directions to the next work site with ease. There's also an immense number of interior stylings and trims that will reflect your own unique taste. Plus, you'll find interior storage compartments-ideal for water bottles, tool kits, and much more.
Related Post: Ford F-150 Configurations Review
Understanding Our Ford F-150 Lease Deals
The lease deals at our Ford dealership are always tailored to your needs and the Ford F-150 opportunities we have in store come with several favorable benefits.
To start, you'll have a service warranty that ensures each visit to the shop is high value. If you had a couple of specific ideas in mind for your lease, you can also sit and speak with our consultants to iron out your ideal plan. You can get started online, too, with the pre-approval form.
Go for a Ford F-150 Lease Deal near Nazareth PA
Ray Price Stroud Ford is happy to set you up with a favorable Ford F-150 lease deal. So, begin browsing through our options before coming into our financial center and working out a specific plan!