East Stroudsburg is a Monroe County borough on the east Pennsylvania border near New Jersey. With a population of nearly 10,000 people, the city has certainly grown over the years. Originally, the city was called Dansbury after its founding in 1738, but as railroads spread into town, it was more pragmatic to change the name to East Stroudsburg for geographic reasons. The railways are what really brought this city to life.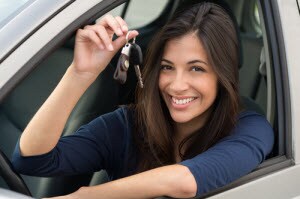 In modern day East Stroudsburg, you can see the old East Stroudsburg train station that was built in 1856. It has since become unused, but if the proposal to extend NJ Transit to the station is accepted and implemented, this piece of history will once again provide a practical service to the people of East Stroudsburg. In the meantime, you can hitch a ride on the Pocono Pony, which is a nickname for the Monroe County Transit Authority's bus routes.
Let's be honest, though. No one wants to ride the bus if they don't have to. The best way to travel around East Stroudsburg is with an economically-efficient used car. If you're looking for a used car dealer near East Stroudsburg, look no further than Ray Price Stroud Ford.
About Our Used Car Dealership
We've been at this job for over 100 years now. Ray Price Stroud Ford descends from a small franchise that opened in 1913, and we've been selling Fords to people ever since. Since then, our little franchise has paved the way for an entire family of dealerships dedicated to providing the best service to its customers. With our century of experience, we've learned that the key to successful business is keeping customers happy and satisfied.
Buying a used car can be a stressful process, but we're here to make it as easy as possible. We offer a multitude of resources like car comparisons, car reviews and more. We want you to be an informed consumer, so you can be sure we're not pulling any tricks. Unfortunately, so many dealerships use deceit in their business, but we want to separate ourselves from that. Buying a used car is a big decision, and we want to help you make the right one.
Ray Price Stroud Ford has a library of used car content to help you out! Here, you'll find articles on all the tips, tricks, questions, and thoughts to keep in mind as you're searching for your next pre-owned ride.
We don't just serve our community, we live in it. We want to foster the right kind of environment for all people and make sure our neighbors are as happy as can be regardless of whether they need a Ford. To foster a better community, we participate in local charities like Drive 4 Ur School and Fill a Honda With Hope. Brand loyalties don't mean much compared to helping the American Cancer Society's Hope Lodge via Fill a Honda With Hope.
Visit Ray Price Stroud Ford today!
Ray Price Stroud Ford is proud to be the best used car dealer near East Stroudsburg, PA. We can service all your automobile needs whether you're looking for a reliable used car or want to service a car you already have. Our friendly staff is more than happy to offer all the knowledge and help you need finding the right used car for you. Check out our expansive inventory online or come see us in person. Visit us or call us today to learn more about our inventory of used cars and schedule a test drive today!
If you're searching for a used car dealer near East Stroudsburg, look no further than Ray Price Stroud Ford and their expansive used car inventory.