If you want to keep your vehicle in top shape, you need to make sure your wheels are aligned properly. Numerous aspects of your car can be affected by poor wheel alignment, such as tire wear and fuel economy. Minimum tire wear and maximum fuel economy can get you the most out of your car and the least out of your wallet.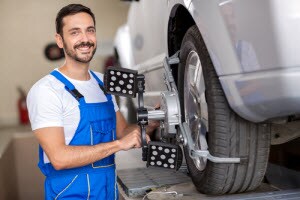 At least once a year, you're going to need to get your tires aligned. You can make it easy on yourself by doing it every time you get a tire rotation. It's important to take this seriously because, while you may think you can evaluate wheel alignment just by looking at the wheels, the difference between tolerances can be as low as tenths of a degree. The terminology can be a little confusing, so we'll go over the major terms relevant to alignment. Learn everything you need to know about wheel alignment with our helpful guide. 
Ray Price Stroud Ford is your trusted Ford Tire Center near Stroudsburg, East Stroudsburg, Easton, Nazareth and Lehigh Valley, PA.
What is Wheel Alignment?
Wheel alignment is the proper positioning of your wheels relative to one another and the chassis overall. For the best results, you want them aligned with the chassis, each experiencing the same amount of rolling resistance. Put simply, proper alignment makes your vehicle go where you want it to.
Different Tire Alignment Tolerances
While manufacturers have designed their vehicles to function best with a specific alignment, there are some slightly different alignments that are still considered tolerable. These tolerances still fall within guidelines the manufacturer has given, but they don't fully optimize the functioning of your vehicle. Be sure your technician gets your alignment as close to the sweet spot as possible.
Toe of Your Tires
When you hear your mechanic talk about the toe of your tires, they are talking about the angle of your wheels relative to one another. When your tires aren't sitting perfectly straight forward, they toe in a certain direction. This will affect your tire wear and steering. Compensating for toe tracking can be exhausting when you drive.
Camber Angle
When you hear talk of the camber angle, it refers to the angle of your wheels relative to the road. Ideally, your wheels are oriented perfectly perpendicular to the road. Some racing vehicles will have their wheels purposely cambered in a way to camber out with fast, sharp turns. Unless you're racing, however, the best camber is straight up and down.
Caster Angle
The last important vocabulary word here is a caster angle, which is your wheel's angle relative to the car itself. For the best driving performance, the angle should be parallel to the car's frame. You'll know when the caster is off as your car will lean awkwardly in one direction.
Get Your Wheel Alignment at Ray Price Stroud Ford
For drivers in the Stroudsburg, East Stroudsburg, Easton, Nazareth and Lehigh Valley areas, Ray Price Stroud Ford is the best location for any service your vehicle might need, like tending to car alignment. You don't even have to be driving a Ford - our experienced technicians can handle any car or maintenance issue you might have. 
So, when was the last time you checked your Ford wheel alignment? If you're not sure, then you definitely need to head over to Ray Price Stroud Ford for serve. Schedule tire repair or replacement online today!
You May Also Like: