Sport utility vehicles (SUVs) like the 2017 Ford Explorer are popular because they have plenty of cargo space, can be driven off-road, and are capable of towing boats, campers, and trailers of different sizes. Each make and model of an SUV has a variety of features, depending on the size, power, and options selected. A small SUV, for example, may seat five adults comfortably in two rows of seating. Larger ones can fit seven adults in three rows of seating.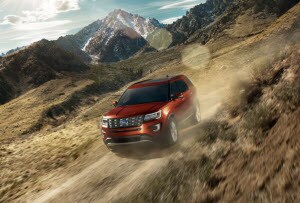 In this post, our team at Ray Price Stroud Ford will take a closer look at the 2017 Ford Explorer towing capacity so that drivers in the Stroudsburg, East Stroudsburg, Easton, Nazareth and Lehigh Valley areas can decide if this SUV is powerful enough to meet their needs. For more information, contact us today.
Ford Explorer Towing Capacity
Towing capacity is measured in pounds and is determined by a couple of factors: the size of the engine and the height of the vehicle's frame. Some SUVs are designed more for city driving than heavy-duty towing. For example, even though the Ford Edge offers 4-wheel drive and has a V6 engine like the Ford Explorer, it can only tow up to 2,000 pounds.
The 2017 Ford Explorer, on the other hand, can tow up to 5,000 pounds, in addition to having a power V6 engine and 4-wheel drive options. This additional towing capacity is great for drivers who plan to tow a small camper or trailer for equipment and supplies. Not only that, but you'll also get the benefit of a roomy interior with added cargo room.
Other Desirable Features
The Ford Explorer's towing capacity isn't the only desirable feature available on this sport utility vehicle. For example, the third row of seating folds flat with the touch of a button, which means you can easily toggle between more cargo room and more seating capacity, depending on your needs. People requiring even more cargo space can also fold down two-thirds of the second row of seating or the entire row. That way, you can better balance how much seating or cargo space you need.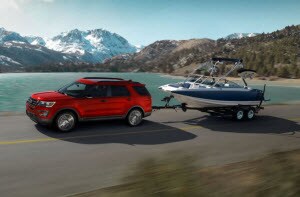 A Terrain Management System™ is standard. This allows the driver to shift into one of four settings to match the exact terrain. Driving on snow is much different than driving on grass, so this vehicle has a responsive way to keep passengers safe in any condition, and it offers optimal traction control. It does this by fine-tuning engine response and performance systems to match the type of terrain you're driving on.
Where to Find Your 2017 Ford Explorer
The best place to find a Ford is at a dealership, where rebates and incentives, factory-trained mechanics, and experienced professionals to answer all questions are all available.
Manufacturer promotions and clearance pricing are also benefits, depending on when in the year the vehicle is purchased. Those in the Stroudsburg, East Stroudsburg, Easton, Nazareth and Lehigh Valley, PA, areas can contact Ray Price Stroud Ford to schedule a test drive. Then, you'll be able to discover new colors, improved technology, and several additional options.